Xanity PHP RAT Remotly Attack Software Free Download … It is the latest and advanced Xaity RAT ( Remote Administration Tool ) of Windows. It can use to remotely
Xanity 2.0 PHP RAT. This is a xanity leak for those interested in malware research. It keeps the stub updated and FUD and with its built-in Scanner
Here the source code + compiled cracked version of Xanity PHP RAT v2.0.0.1 hope someone can create internal stub. DOWNLOAD
This is a release of the torCT PHP RAT for people willing to research RATs and how they work. xanity-php-rat: Xanity PHP RAT leak For Researchers
This is a number of projects that have RATs utilising a PHP backend and executable client. … Current RATs are as below: Xanity PHP RAT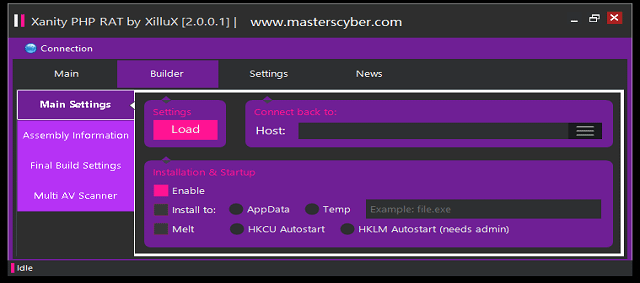 This is a number of projects that have RATs utilising a PHP backend and executable client. They are fully decoded with source provided, they are not originally developed by me; The main aim of retreiving them and reversing was to simply get an understanding of the malware provider's thought process in structuring and building the RATs. Current RATs are as below
Xanity PHP RAT
has pretty unique features, like the advanced Map-View and a built-in AntiVirus-Scanner which does not distribute samples.
The server works on each Windows Version with the .Net Framework 2.0. This program was written in Visual Basic and uses PHP (on a WebServer) to communicate with the servers. This means you don't have to portfoward.
Never use again your IP (NO-IP), a VPN, or even open any ports, since openning ports creates many security risks. If you were never able / allowed to open ports, Xanity RAT is your solution.
The only thing you need is a good Webserver with fast Internet Connection, to make the RAT work perfectly. Using free Webhosting, like 000WebHost, won??t work since they spam and have ads, that makes the PHP files either corrupt or prevent them from working. We have great 24 hours support that will help you with this RAT and an masterscyber. So don??t hesitate to buy this awesome RAT for ONLY 20$ (Lifetime)
Xanity PHP Rat is the best, cheapset and most stable PHP RAT on HF. It has a lot of unique Feature that take ratting on a new level. Never be afraid again! We keep the stub updated and FUD and with our built-in Scanner, that does not distribute, it will be FUD almost forever. Xanity uses CodeDom to compile the Stub to a very low Size(49kb). This program was written in VB (.Net Framework required) and uses PHP to communicate with the servers, so this works without opening any port. Don't hesitate to buy, Xanity, with its unbeatable design, price(20$) and functions, that no other PHP RAT can reach.
Features:
No Portforwarding
Stable, Stealth & FUD
Listen up to 10 HOSTS
Over 150+ unique Features
Built-in 38 AV Scanner
Remote Taskmanager
Host File Editor
Remote CMD
Keylogger
Advanced Map View
Recover PAsswords
Autobuy ONLY 20$
Fun-, File-, & Registry-Manager
Get deep SystemInformation
Get installed Software
Get Clipboard Image / Text
Webcam Capture
Desktop Capture
Audio Capture
Zip Password : www.masterscyber.com