It is the best remote administration tool for android devices. This hacking tool can help you remotely access anyone android device and you can remotely control their device by using this powerful mobile hacking software.
It is a stable and very good working remote administration tool for android devices used by hackers to hack people's cell phones by using this dangerous android rat. I can give you below download link  Venom RAT Android + Windows
Venom RAT Android + Windows  Software Remote Administration Tool A quality remote administration tool was the top request we had from our macro exploit users, and that's how Venom RAT Android + Windows
Venom RAT It is the latest RAT ( Remote Access Tool ) in the hacker,s market which supports windows operating systems. It can create a powerful 
Venom RAT Propose Change. There is no description at this point. References
The malware in question is named Venom Software or VenomRAT, a remote access Trojan (RAT) currently on sale on various forums on the darkweb Venom RAT Android + Windows
It is the latest RAT ( Remote Access Tool ) market which supports windows operating systems. It can create a powerful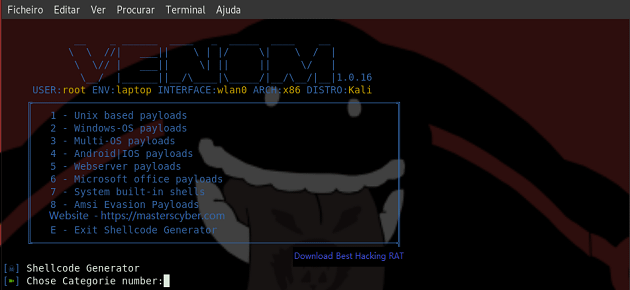 Venom RAT can attack Android IOS Windows XP, 7, 8, 8.1 and 10 operating systems. Like all RATs, Venom Rat also grants a Criminal Hacker direct access to the infected system. Venomrat has the functionality of : Exfiltration: files in victim Device
What is venom software used for?
Venom, which is short for Virtualized Environment Neglected Operations Manipulation, is basically a bug in popular data center software that if exploited enables cybercriminals to gain remote access to any virtual machine in a data center
The Linux VENOM rootkit is a two-component malicious software aimed at maintaining unauthorised access on compromised Linux systems. It requires root privileges to be installed, and relies on: A lightweight Linux Loadable Kernel Module, providing an additionnal port-knocking service for the userland backdoor Venom RAT Android + Windows
When a hacker sends any malicious file to the victim to get into there system, most of the tool doesn't bypass the antivirus (AV) protection. But today we will talk about a tool that can bypass the antivirus protection and compromise the victim's machine. Our Ethical hacking researcher are always find the  easy ways to bypass Antivirus protection,
however there are many more way to bypass antivirus protection. Today we see how Venom RAT is used to compromise any target system even if the antivirus is enables.At the time Venom RAT was offered at these costs: one month at US$150, three at $350, and six at $550. But This is Free
About Venom RAT tool , It use C# programming to build. It is a Latest Remote Access Tool in the hackers community which can easily bypass any antivirus in Android +windows operating system . It can provide FULLY UNDETECTABLE (FUD) payload for your victims. Venom RAT Android + Windows
It is officially build by the Venom Team and cracked by avinfock hacker. With this RAT we get most power full and new features.This Venom RAT tool has many advanced features like rootkit features through which we can create invisible and undetectable payload. It also has advanced features like Hidden RDP and Hidden VNC Viewer etc.
Windows Features Venom RAT Android + Windows
There are many powerful , new or useful features that are used in this RAT ( Remote Access Trojan ). This is a paid RAT But we are providing you a cracked version of it. This is  why It has many new features and some of its features are mentioned below. Venom RAT Android + Windows
Clients control
IPv4 & IPv6 Support
Protocol Buffers
Encrypted Communication
Rootkit
Hidden Process
Hidden File
Hidden Startup
Remote WebCam
Update
Disconnect
Reconnect
Uninstall
Remote system
System information
File manager
Startup manager
Task manager
Remote shell
TCP connection
Reverse proxy
Registry editor
Elevate client permissions
Turn-off
Turn-on
Stand-by
Remote control
Remote desktop
Remote webcam
Keylogger
Remote microphone
Velos stealer
Remote execute
Visit website
Show message box
Hidden vnc viewer
Hidden rdp
Pastebin uploader
Binder
Word exploit
Ring 3
Rootkit
Assembly
Keylogger
Recovery
Anonfile uploader
Stealer
Android Feature
File manager
Calls manager
SMS manager
Contacts manager
Location manager
Account manager
Camera manager
Audio recorder
Shell terminal
Applications
Keylogger
Settings
Phone
Client
Chat
Client name
Country
Flag
Adress
GPS
Model
Version & Api Level
Monitor sms & calls
Merge
Hide
Listen port
Build client
Settings
Logs
Etc many more.
How To Install In Kali Linux Venom RAT

1. First of all Conect Your Kali Linux Device Internet
2. Download and extract zip file
3. Now unzip it
4. Run Venom Rat Tool
5. Choose No
6. Choose Android Or Windows Hacking
7. Enjoy.
Zip Password : www.masterscyber.com