FUD Crypter. "Vedani Crypter" bypasses all av's runtime and scantime. Used AsyncRAT Remote Administration Tool
VedanI Crypter/Private | Bypass Windows Defender 21H2 | Stub Update Testing. |22.03.2022| FUD
Vedanı Crypter/Protector | Bypass Windows Defender 21H2 | Stub Update Testing Orch Silent Exploit Gmail Test 2022 100% FUd (Gmail And Wd Bypass)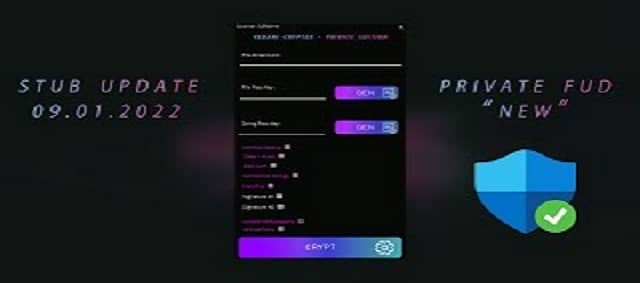 Silent program Encryption NJrat bypass windows defender ,avast,avira Vadani Crypter/Private | Bypass Windows Defender 21H2 | Stub Update
Normal crypt is FUD/UD, special crypt 100% Fud runtime Fud/UD -FUD AEIGIS STUBS WITH SPECIAL INJECTORING IN MEMORY
Image & Extension changer
Binder & Pumper
Assembly changer
VPN where you can open ports with upnp! Good while using Rat!
Automatic Updates we are providing updates every day!
Icon changer
Extension spoofer
T.O.S(Terms Of Service):
All sale are final,No refund are given
No crypting service for others
No sharing or distribution of Silent Crypter Builder with any third party.
You are responsible for what you do with Silent Crypter and the VPN included with it
Silent Crypter is not made for malicious use, but only for personal and protection purposes against reverse engineering.We do NOT allow our software to be used in any
wrong way. It is meant for security testing, protection of LAN (parental) monitoring tools and file
protection. Crypters can be used for education penetration tests, personal tests, and to protect legal files
which you do not want to be debugged or reverse engineered.
You may scan the crypted/protected files with an no distribute scanner like www.nodistribute.com
We STRICTLY do not allow to use Silent Crypter for crypting botnets,Ransomware or any similar financial fraud tool
Violation of any of the above mentioned T.O.S. will ultimately result in your account and license being banned from
the product, temporarily or permanently depending on the violation type.
Silent program Encryption onsicrat bypass windows defender ,avast,avira … Vedani Crypter/Private | Bypass Windows Defender 21H2 | Stub Update
FUD Crypter. bypasses all av's runtime and scantime. Used AsyncRAT Remote Administration Tool