TurboSpy Our TOP PICK! Turbo Spy is a brand new app built on the latest architecture. This allows Turbo Spy to monitor and track a phone like no other cell phone spy app can. We found it to be straightforward to use. Setup took us only a few minutes. We were getting information from the other phone almost immediately! Turbo Spy can also "clone a phone," showing how to create an exact copy of one phone to another. Very cool!
Spy on a Cell Phone Without Having it
The latest version lets you use their exclusive OTA (over-the-air) link to download the app to your phone. Once downloaded, the Turbo Spy app creates and maintains a remote connection over the internet. All you have to do is download the app activate it using your license key. You can be getting information from the other phone within minutes!
Turbo Spy delivers everything you need and then some. We tested a variety of iPhones and Androids, and we did not encounter any issues. Turbo Spy worked on all phones and operating systems. Turbo Spy did a great job extracting text messages and iMessages (even if they have been deleted) from the monitored phone. The app also gathers calls, GPS, Facebook, Instagram, and a lot more! Among its many benefits is its quick and easy download.
How it Works
TurboSpy works by establishing a remote connection over the internet with the target phone (the phone that is being monitored).
Three Easy Steps:
Download – Use the OTA (over-the-air) link to download the app.
Activate – Enter the license you get from Auto Forward to activate.
Monitor – From your cell phone, tablet, or computer, view texts, calls, GPS, and all available information from the target
Features
OTA (over-the-air) link: Enables remote downloading for quick and easy monitoring of any cell phone.
Undetectable: The app is undetectable on the target phone. Activity is captured and uploaded silently.
Text messages: See all texts that have been sent or received (even they have been deleted). Includes the date, sender, and complete statement.
Social media: Facebook, Instagram, WhatsApp, and Snapchat messages. Records; Likes, Shares, Private messages, and more.
Keylogger: Captures and records all keystroke entries performed on the phone.
Calls: Record all incoming and outgoing phone calls.
Remote listening: Activate the phone's microphone to listen to surroundings.
Stealth camera: Send a remote command to the phone to snap a picture.
Low Price: One-time fee of only $29.99 and no monthly subscription. Plus, you get free lifetime upgrades!
Works with: All Android's and iPhone's
TurboSpy Using the OTA (over-the-air) link, you can remotely download the app and monitor the target phone without having the phone with you or anywhere near you. Once a remote connection is established, Turbo Spy continuously uploads activity to your secure online account from the target phone. You can monitor the target phone right from your own cell phone without being anywhere near it!
Safely monitor any Android device or Apple device from your own cell phone, tablet, or computer. TurboSpy works by remotely accessing data on the target phone and displaying instantly in your dashboard. Get all texts (deleted & new), calls, GPS location and more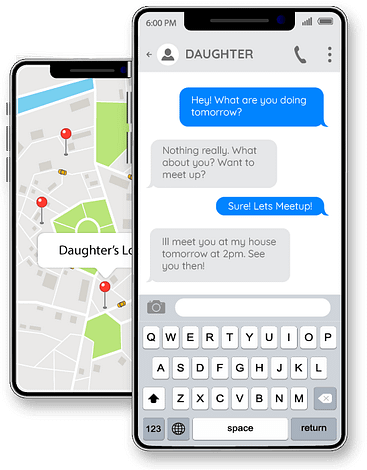 TurboSpy's Top Cell Phone Monitoring Features
TurboSpy phone monitoring software comes loaded with every feature you will need to monitor any phone.
Call Logs
You can view all the incoming and outgoing calls on the target device's call log with all the data including the name, date and time.
GPS Tracking
From your dashboard you can view all locations of the target device on a Google Maps format. The target device can be tracked within 50 feet.
Photos and Videos
All photos and videos sent and received to the target device will appear in your dashboard.
Text Messages
You will be able to view an exact copy of every text that has been sent or received by the target device even if they've been deleted.
Monitor all social media activity on apps like Facebook, Instagram, Snapchat, and others. Including likes, messages, and all other activities.
Contacts
You can expect to see a list of all numbers saved to the device with the name and number or any other details listed with the contact
Zip password : www.masterscyber.com