it's easy to use android PHP teardroid rat the best part is no port forwarding is needed also work as ransomware
Teardroid Phprat is an open source software project. its easy to use android php rat the best part is no port forwarding needed also work as ransomware.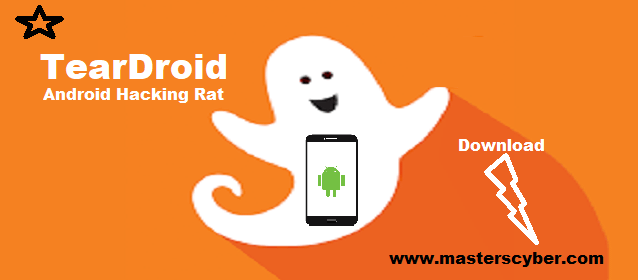 Teardroid Rat – android 
0.android studio
1.websitehow to use
0. Downlaod all files from github
1.create a website using any free hosting provider
2.open phpmyadmin in import u251400708_brain.sql file from control panel folder
3.now upload all files inside control panel folder in you website public html folder
4.open botnet apk in android studio
5.now go to myservice.java and add your website link
6.build you apk
Teardroid Phprat is an open source software project. its easy to use android php rat the best part is no port forwarding needed also work as ransomware.
We will now create a RAT and hide it within a fake application. This exploit is designed for Android phones. We will be using TearDroid Rat to create this payload. This process will be very similar to the payload we made earlier to exploit Windows 7. In recent years, incidents of mobile phone hacking have been growing at a tremendous rate. This lab will show you how hackers create fake apps that can be played in the Playstore. Once the fake app is opened, the hacker will have remote access to the victim's phone. Once a hacker has control, they can turn on the camera, dump all text messages, dump all call logs, obtain the geolocation of the victim's phone, turn on the microphone and start recording, and more. Hackers take advantage
he complete source code for the Android remote access Trojan (RAT) called Teardroid has been leaked online, which researchers from PhishLabs have found contains several vulnerabilities.
"The lack of user input validation in Teardroid RAT control panel is severe, especially when you consider the level of operational security needed in even smaller crimeware campaigns," masterscyber Threat Analyst Paul Burbage explained in a blog post.
One of the vulnerabilities, for which PhishLabs has published a proof-of-concept, is an unsanitized user input written to a file called Panel/config.php via a POST request to Panel/applysettings.php. By rewriting the configuration file, an attacker can inject and execute arbitrary PHP code, and even make the control panel inoperable.
"In the past, malware source code leaks have spawned several variants and led to more widespread use of the crimeware features that made the original malware desirable," Burbage explained. "When the source code for Zeus Trojan was leaked in 2021, for example, it accelerated the proliferation of features designed to bypass online banking security measures."
Looking for the best android remote administration tool (android rat) and top android hacking apps for penetration testing on your mobile phones. TearDroid RAT
Android apps are growing rapidly day by day. With each new day, hundred of thousands new apps developed and introduced on the PlayStore. As with the rapid speed of development, threat to privacy also raised to peak. Security researchers are testing new techniques to find out loopholes and then to develop apps to avoid that sort of attacks.
Android RAT (Remote Administration Tool) is a malicious coded program that allows the remote device to control of any target smartphone just like if they have physical access to it. Remote desktop and screen sharing softwares have many legal uses whereas RATs are usually associated with unauthorized or malicious activity.
There's hundreds of apps introduced to check out the authenticity of your smartphone for malwares and viruses. But to keep the things short and to the point, we streamlined the list of top android remote administration tools of 2021.
Every tool is crafted to give the best in it's domain of functionality. Some of these apps are specifically designed for a core purpose or operation while others are to perform all the general security related operations. Despite of their working domain, these are the best and top android rats of 2021 one can have on their smartphone TearDroid RAT
Zip Password : www.masterscyber.com