SyndromeRAT Trojan is a Remote Access Tool (RAT) and has been extremely prevalent in the Middle Eastern region. Syndrome was developed using Microsoft's .NET framework and like many other RATs, provides complete control of the infected system and delivers an array of features to the remote attacker. We have seen attackers leveraging popular gaming & software application cracks & keygens as the lure to infect end users.
You can remotely hack anyone computer by creating a payload virus from syndromeRAT скачать and then send that payload to your victim.
When your victim installs your payload virus then the payload starts working in the background of their pc and a connection is made on your remote access trojan.
You can do anything with your victim pc by using this windows rat. You can steal your victim's all browsers password from this remote access tool.
WHAT IS SYNDROMERAT
It is a modified version of simple SyndromRAT It is modified by a dark web SyndromeRAt It is also known as the name of SynDromeRAT. He added so many new and advanced features in this remote access trojan.
It is the best free RAT tool of all time. You can fully control anyone's pc remotely from this pc rat tool like you control your own pc.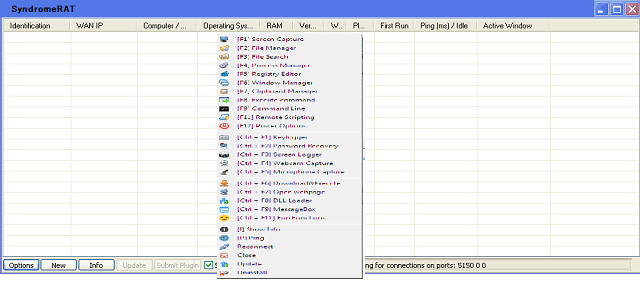 SyndromeRAT Remote Administration Tool also known as RAT is used to remotely connect and manage single or multiple computers. RAT is one of the most dangerous Trojan because it compromises features of all types of Trojans. It provides an attacker with nearly unlimited access to host computer along with Screen Capture, File management, shell control and device drivers control. RATs uses reverse connections to connect remote system and hence are more likely to remain undetected. They can hide themselves in process space of legitimate program and hence never appear in task manager or system monitors.
A Trojan generally has two parts Client and Server or Master and Slave. We can say Server is Slave and Client is Master. So a server side is installed on a remote host and the attacker manipulates it with client software. In olden days making a Trojan was a job of master programmer but now a days several Trojan building tools are available. Most of them usually have same kinda interface so its quite easy to use any Trojan client once you have used any one of them . Following is list of some well known Trojans and Trojan Building Tools, Syndromerat
If you think the list is very big then I must tell you it's not complete nor it covered 25% of RAT building tools. SyndromeRAT
How to create a RAT:Since there are several tools available and most of them have same kinda interface we can select any RAT building tool for demonstration. So here we select syndromerat Client to demonstrate working of RAT. Please note that using RAT for hacking is crime please take this demonstration for educational purpose only.Type
"Download Syndrome RAT" in Google search and download SYNDROME RAT. Execute syndromerat file and launch program. Accept EULA and following interface will be launched in front of you.
As you can see there are several options are available in settings but for our demonstration we will use most common settings. In "Basic Option" type your IP address and then press "+". In identification name of the server from which your client will identify to which server it's listening, this name is given for your client to identify connection. No need to specify what to put in connection password. Specify the port on which you'll like to listen. Please keep note of this port since you'll have to configure client settings to receive information on this port
The next option is "Server Installation". From "Directory Installation" you can select where and in which name folder your RAT server will be installed. In "File Name" option you have to specify name and extension of your server. Boot Methods gives you option to start your server as "System Service" or "User Application" take your pick or leave them untouched. "Anti-Debugging" function allows your RAT to bypass Virtualisation and Sandboxing.From "Misc Options" you can activate key logging feature as well as you can select how your RAT can hide itself in another process."Display Message" option gives you power to show custom message on victim's computer."Black List Item" option allows to set logic for execution of your RAT server with respect to specific process and service. Mostly only advanced users use this feature."Overview" allows you look of features of your RAT. Now select an icon and press create server to create server.Now the add file function allows you to bind your RAT with any legitimate file most probable is an executable installation file. To avoid detection don't use custom message box and UN-check "Run in Visible Mode" option while creating server. SyndromeRAT
Configuring To Listen On Client: SyndromeRAT To configure Cerberus to listen on specific port select options and put "Connection Password" and "Connection Ports" that were specified in Server. Wait for victim to execute server and then just right click on listening server and play with options.
Now when next time we will discus RAT we will take a look on how you can counter and prevent yourself from RAT attack. Please give us your comments it'll help us improve. Have a nice time and keep visiting.
Zip Password: www.masterscyber.com