is the latest and advanced RAT ( Remote Administration Tool ) For Windows. It can use to remotely
StormRAT Crack is a popular free remote management tool. This is an software created to remotely control any Microsoft Windows device
A remote administration tool (also known as RAT Crack) is software … but it is the reviews that make a stormrat tool
It is the latest and best remote administration tool that I have not ever seen before in my life. There are so many powerful features and new exploits added in this remote access trojan which you were never seen before.
You can hack anyone's pc silently remotely by using this remote access tool. It is a favorite hacking exploit software for hackers and crackers. StormRat

All features are working perfectly in this latest remote administration tool. There are many other RATs that are very old and their features are not working well like password recovery features etc.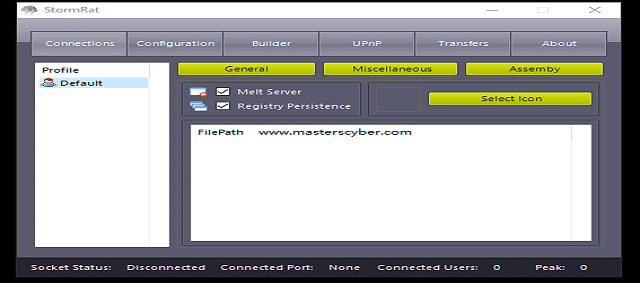 The password recovery feature is working perfectly in this StormRAT. You can steal all the latest version of browser passwords by using this STormRat.
About StormRAT Cracked
It is the modified version of STORMRAT so many dangerous RAT features to it and then selling it for 100$.

All credits go to an unknown venom hacker who was cracked dangerousrat v5 software and provide us free of cost.
I personally check and use this remote administration tool for testing purposes. I test all features that are working perfectly. Dengerous Rat

You can see so many powerful features in this rat that you don't see in any other rat. You can steal crypto coins from your victim pc by proving your crypto address during the build.
When the victim installs your payload and when he tries to send BTC to any wallet then it will automatically transfer that BTC to your provided BTC address.

You can see so many features during payload build in this dangerous rat latest version. I recommend you to fill up all fields which help you to hack your victim pc permanently.

When you fill all fields like add your payload to startup, persistence, add to hardrive then you will be able to hack victim pc for a lifetime.

The victim will not be able to remove your payload from their pc and this is the way you can hack your victim pc for a long time by filling up all fields during the build.

You can also perform so many fun activities with your victim pc. You can turn off and turn on the victim screen display. You can play horror images and horror sound on your victim's pc.

You can open any website on your victim pc silently. You can earn money with adfly bot by which is a new feature provided in this storMrat latest version.

You can ransomware your victim's pc and you will demand money from your victim. You can earn profit in many ways from your victims.
If you gain so many victims then you can mine cryptocurrency silently from your bots and you can easily be made up to 10$ daily if you have hundreds of victims.
You can grab all the latest browser passwords from your victim's pc by using this remote access trojan. You can delete your victim's browser cookies by using this STORM rat v 5 RAT.
You can also checkout send me a notice on the discord f
eature which means when the victim installs your payload then a popup message automatically sends into discord.
You can also see a built-in macro exploit in this stormRAT which is very expensive exploit in market and you can enjoy it free in it.

STORmRAT Cracked allows you to spreads your payload like a worm. You can spread your payload via USB, via the local network, via hard drive.

You can convert your .exe payload into a .msi file. You can control up to so many bots at a single time is this windows STORM RAT.
Features
Auto-startup
Persistence
BTC stealer
ETH stealer
XMR stealer
USB spread
Password recovery
HRDP
HVNC
Ngrok
Remote desktop
Victim pc all information
Victim IP
Victim flag
Screen locker
Ransomware
Fun
Change desktop wallpaper
Horror voice and horror wallpaper
Macro exploit
Country name
Operating system
Installs date
Flag
Run any file
Microphone
Keylogger
Copy clipboard
Adfly bot
Hidden website open
Chat
Option
Reverse proxy
Delete victim browser cookies
Anti process
Profit tools
Andx
Compile vb.net
Webcam
Dangerous tool
Setting
Many more…
How To Use?

Many newbie people don't know how to use this Storms rat cracked? It is very easy to use this hacking tool like other remote administration tools. The same process applies in this software.

I provide you below the estorm rat cracked video tutorial which helps you to learn how to use that tool.
Requirements
These are two mandatory software. If you face any kind of error during Cracked StormS RAT for windows installations then download and install these to solve your error and for smooth use.
1. Microsoft Netframework 3.5 or 4.6.1 ( Download Here 3.5 ) ( Download Here 4.6.1 )2. Java JDK or JRE ( Java JRE Download Here ) ( Java JDK Download Here )
System Test
It is properly tested on all windows operating systems. It can work perfectly on all windows operating systems after fulfilling their requirements.
Windows 10  ( Recommended System )Windows 8.1Windows 8Windows 7 For StormRAT
How To Install In Windows
1. First of all Turn Off your antivirus
2. Download and extract the zip file
3. Now unzip it
4. Turn off windows defender real-time protection
5. Run StormRAT.exe
6. Click on the install button
7. Enjoy.
ZIP Password: www.masterscyber.com