The Trojan application is called SpyNote and permits programmers to take clients' messages and contacts, tune in on their calls, record sound utilizing
SpyNote v.8.6 G windows+Android spynote 8.6 g very simple java rat which work on same time android and windows
About SpyNote 8.6 Cracked Version: This is the latest version of the remote administration tool in the Spy Note series, which releases new
SpyNote is android remote administration tool,you can control of any android device with great features to give you all you need for android phone
SpyNote v.8.6 G Windows+Android Latest Version | Ngrok lifetime port forwarding in windows
SpyNote v.8.6 G windows+Android spynote 8.6 g very simple java rat which work on same time android and windows
Spynote v8.6 is the latest version of Spynote with the most advanced and efficient features available. It has advanced character and to support
SpyNote v8.6 Remote administrator Tool free download from hacking fever. via spy note v8.6 you can control any android device with a single click.
We should first know the basics of the remote administrator tool before moving on to the features section. Which are the works by Rats?
A remote access Trojan (RAT) uses backdoors to gain administrative control over a computer. RATs are usually downloaded invisibly with a user-requested program such as a game – or sent as an email attachment.
It is an advanced version of android rat ( remote administration tool ) with new and powerful features. The tool can be used to hack mobile phones and control them remotely from everywhere around the world.
Hackers and crackers use it to remotely hack android mobiles by binding payload with any other android app. I will give you the SpyNote v8.6 G cracked version for free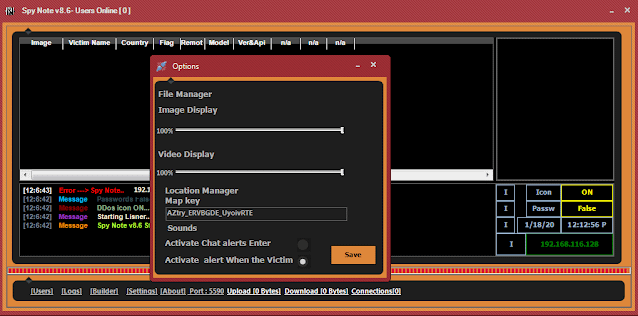 New Android Trojan SpyNote Holes On Underground Gatherings || SpyNote v.8.6 Free Download
Another and intense Android Trojan has been spilled on a few underground discussions, making it accessible for nothing to less ingenious cybercriminals who are presently prone to utilize it in assaults.
The Trojan application is called SpyNote and permits programmers to take clients' messages and contacts, tune in on their calls, record sound utilizing the gadget's worked in amplifier, control the gadget camera, make rebel calls and then some.
As indicated by scientists from Palo Alto Systems, SpyNote doesn't require root access to a gadget, however, prompts clients for an extensive rundown of consents on the establishment. The Trojan can likewise refresh itself and introduce other maverick applications on the gadget.
It's not clear yet how aggressors mean to appropriate it to unfortunate casualties since specialists haven't watched assaults in the wild utilizing it. Notwithstanding, they accept that such assaults are likely giving that the SpyNote manufacturer is currently accessible for nothing.
The developer is a Windows application that can be utilized to create modified forms of the malignant SpyNote APK (Android application bundle). Aggressors can alter parameters like the application's name, symbol and order server.
Most malevolent Android applications are circulated from outsider sites and expect gadgets to permit the establishment of applications from "obscure sources." This element is killed on Android gadgets as a matter of course.
Every once in awhile, malware additionally sneaks past Google's barriers and advances toward the official Play Store.
Another probability is the manual establishment of the Trojan application on a solo gadget, for instance by an envious life partner, a colleague, or a poorly proposed associate. There have been situations where clients have gotten pre-contaminated gadgets as endowments from individuals who wished to keep an eye on them.
More up to date forms of Android have antimalware highlights like Check Applications and SafetyNet that can distinguish and square known malware applications when their establishment has endeavored and regardless of whether "obscure sources" are permitted on the gadget.
the Google Play Store, which, even with itemized techniques and calculations to get rid of malevolent applications, isn't invulnerable," the Palo Alto Systems analysts said in a blog entry.
Join the System World people group on Facebook and LinkedIn to remark on points that are top of the brain.
Efficiency apparatuses are by all account not the only aim for concern. Recently there have been a few reports of malignant projects camouflaged as well known applications.Applications downloaded from outsider destinations were veiled as being Netflix, Facebook or WhatsApp, among others, yet contained a bit of spyware called the SpyNote Rodent.
This program would permit somebody to remotely get to the gadget, empowering them to duplicate records, read messages, see contacts and actuate the gadget's amplifier to tune in to discussions.
Chris Hodson, EMEA boss data security official for cloud-based security firm Zscaler, clarified that while camouflaged spyware isn't new, digital crooks have gotten progressively complex and are presently ready to make the applications look increasingly real and authentic.
Control
File Manager
SMS Manager
Call Manager
Contacts Manager
android 4.4 kit kat to 9.0 pie support
Windows XP to 10 all 32x 64x support
MicroPhone
Camera Manager
Location Manager
Account Manager
Shell Terminal
Application
Keylogger
Setting
Phone access
Pc Access
Chat
Fun
there is two mandatory software that you have to download before installing spyNotev6.5. If you face any kind of error during spy note v6.5 installations then please download These important environments in order to solve those errors download and install these to solve your error and for smooth use.
1. Microsoft Netframework 3.5 or 4.6.1 ( Download Here 3.5 ) ( Download Here 4.6.1 )
2. Java JDK or JRE ( Java JRE Download Here ) ( Java JDK Download Here )
System Test for spynote 8.6 cracked:
System Test for spynote 8.6 cracked:
It is properly tested on all windows operating systems. It can work perfectly on all windows operating systems after fulfilling their requirements.
Windows 10 ( Recommended System )
Windows 8.1
Windows 8
Windows 7
How To Install Spynote v8.6 In Windows
1. First of all Turn Off your antivirus
2. Download and extract the zip file
3. Now unzip it
4. Turn off windows defender real-time protection
5. Run SpyNote 8 Cracked.exe
6. Click on the install button
7. Enjoy.
Java Error Fixed
A lot of people who are new to this Remote Access Tool run into errors. One of the most common errors for this rat is ( SpyNote Java Not Found ). The simple solution is below.
Install java
Open Spy Note v8.6 g rat.exe
Choose the java installation directory
Done your error will be solved
Spynote V8.6 G Latest Version Free Download:
Zip Password: www.masterscyber.com