SpyNote Rat Full Version Download is a lightweight Android remote administration tool (RAT) app available
SpyNote RAT is a light weight Android remote administration tool (RAT) to hack into a smartphone device remotely.
Spy Note all Versions (v2-v5) … Spy Note is a free Android RAT (Remote Administration Tool/Remote Access Trojan) program developed based on Java. Its Server
Remote administrator Tool free download from hacking fever. via spy note v5.0 you can control any android device
SpyNote Free Download is the best program that gives the best security to your device
Download SpyNote v5 Full Version – Android Hacking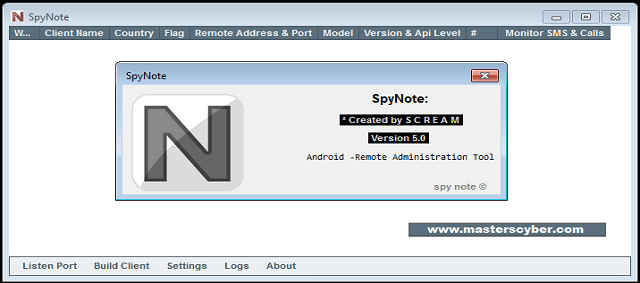 It is the best remote administration tool for android devices. This hacking tool can help you remotely access anyone android device and you can remotely control their device by using this powerful mobile hacking software.
It is a stable and very good working remote administration tool for android devices used by hackers to hack people's cell phones by using this dangerous android rat. I can give you below download link of SpyNote V5.0 Cracked

Read this article full to know about the powerful features of this RAT. If you face any kind of error or have any kind of question related to this article then drop your comment below.
I am sharing spy note v5 only for educational purposes. Test this android rat tool only on your own devices. Don't use it for illegal purposes.
It is especially used for mobile hacking remotely, not for pc hacking. You can monitor your victims devices remotely by using this android rat tool.
It is a powerful android remote administration tool ( RAT ) to hack android devices remotely. You can hack android mobiles, tablets, and many other smartphones by using this best android rat tool.
SpyNote 5 is a paid hacking ( RAT ) but I can give it to you free of cost. It is cracked by a famous hacker ( SCREAM ). All credits go to this hacker who cracked spy note and provide us spynote v5 free download link.
It has many advanced features like app merging, which is use to bind your payload with any other app like the Facebook app, or any other apk.
When the victim installs Facebook, your spy note v5.0 payloads run in backgrounds because it merges with the Bitcoin Best stealing Bitcoin App
SpyNote V5.0 is the latest version of spynote 4, and spynote 3. It has many new features which you have not been seen in their lower versions.
This android rat tool has the ability to bypass google play protect and other famous antiviruses. You can do alot of fun with your hacked victims by using this RAT for Bitcoin App Binder
Features
File manager
Calls manager
SMS manager
Contacts manager
Location manager
Account manager
Camera manager
Audio recorder
Shell terminal
Applications
Keylogger
Settings
Phone
Client
Chat
Client name
Country
Flag
Adress
GPS
Model
Version & Api Level
Monitor sms & calls
Merge
Hide
Listen port
Build client
Settings
Logs
Etc many more.


These are two mandatory software. If you face any kind of error during spy note 4 installations then download and install these to solve your error and for smooth use.

1. Microsoft Netframework 3.5 or 4.6.1 ( Download Here 3.5 ) ( Download Here 4.6.1 )
2. Java JDK or JRE ( Java JRE Download Here ) ( Java JDK Download Here )
System Test

It is properly tested on all windows operating systems. It can work perfectly on all windows operating systems after fulfilling their requirements.
Windows 10 ( Recommended System )
Windows 8.1
Windows 8
Windows 7
How To Install In Windows

1. First of all Turn Off your antivirus
2. Download and extract zip file
3. Now unzip it
4. Turn off windows defender real-time protection
5. Run SpyNote V5 Cracked.exe
6. Click on the install button
7. Enjoy.

Download SpyNote V5.0 Android Hacking RAT
Zip Password: www.masterscyber.com