SpyNote Black Edition is android remote administration tool, you can control of any android device with great features to give you all you need for android phone .
 It is used to hack into a smartphone device remotely, just like magic. It provides users with the power to establish control over android devices with a straightforward graphical user interface as well as all the features they require to monitor them.
SpyNote App Features
It helps to bind user server APK with any game or application.
It is used to explore files with full access.
Read or write messages.
It can be used to make a call, record, and even browse call logs.
It can be used to read as well as write the contact list.
These photos and videos can be captured.
Users can listen to live conversations via mic Record mic sound live.
It can be used to check the browser history.
Users can get a GPS location.
Installed applications can be checked.
Users can get their phone information such as IMEI, WIFI MAC, PHONE CARRIER.
It comes with a fun panel like show messages, shake the phone, and much more.
Now keep in mind as well that it is used to monitor location; thus, just be careful regarding where you go with the police. If you are planning to take the phone to the police, then the abuser may know regarding it, thus keep in mind all the safety issues that are required.
Now many products have similarities with spyware like parental monitoring programs; these are visible on the phone, unlike spyware, meaning you can see that some service is running on the phone.
You need to go through the phone and check to see if an application was installed without your consent. There are a few monitoring programs that are hidden and cannot be seen. In such a case, you need to reset the phone to factory settings could also remove this program.
You also need to think if the abusive person might have access to your accounts like iCloud or Google account, telco account, email, or any other social media application that may track your specific location. Having access to these can give the abusive person similar knowledge.
SpyNote Black Edition Mobile spyware is indeed software that can be installed on your mobile phone device. With this, users can monitor activities on the phone and that too remotely.
Note: now, keep in mind that this one is slightly different from the computer spyware.
If your phone has been jailbroken in the case of iPhone or rooted in the case of Android, then it is used to monitor the following things:
Conversations on the phone.
Record the phone surroundings by using the microphone of the phone.
Specific message applications like Viber, Skype, and WhatsApp.
Once this software is there installed, then the abusive person can monitor all the activities explained above through an online website.
It is quite challenging to check and see if it has been installed as most of the spyware products operate in a stealth mode; thus, it cannot be detected on the phone. The best possible way to discover it for a forensic examination on the phone to be completed, often by the police.
Well, it is not possible to get a forensic examination done by the police; some of the clues that spyware may be installed are as followed:
Strange activity on the phone – Running slow?
In a few cases, as spyware runs fast on the phone, you may notice an increase in battery usage or data usage. If the fact is that the phone has been jailbroken or rooted, then the phone is less secured, which can result in faulty behavior on the phone like shutting down of telephone or even dropped calls.
Physical access to the phone – Too dangerous
All the spyware products that are available commercially require someone to download the software and run installation on the phone that is being targeted. This could be an abusive person or anyone who is installing the product on behalf of the abusive person.
It is quite difficult for the users to install the software accidentally, as this is an active process. It takes 15-20 minutes for the installation process to take place.
If you have suspected spyware on the mobile phone and you aim to remove it, then just reset the phone to factory setting. This should remove it from the mobile phone device the person who has installed the spyware need to have access to the phone to reinstall it.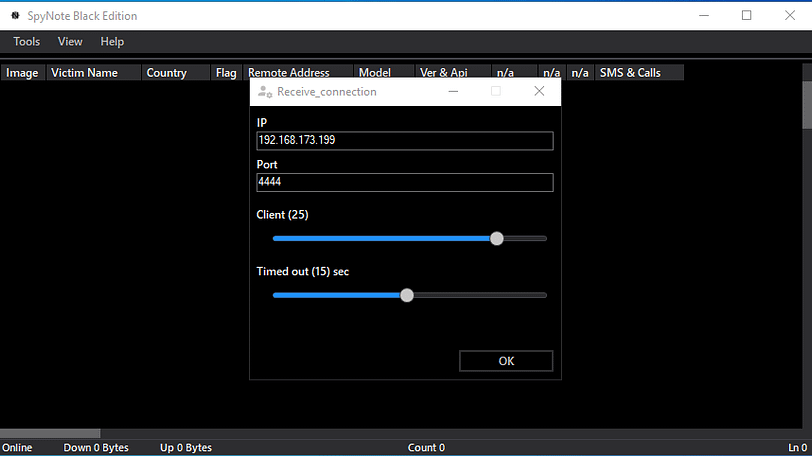 Here was the most awaited Android remote administration that you have asked for. You can now download SpyNote Black Edition full version in v3, v4, v5, v6 and v7. This is the latest version and has been updated with various bug fixes
SpyNote Black Editon The best option if you think that your phone is compromised, then just get a new phone or use any safe phone for activities and conversations that you do not wish the abuser to know at all.
Now for more security, it is recommended that the SD cards or backups from the previous phone should not be installed onto the new phone.
It is deemed to be illegal to install it on your mobile phone device for the sake of stalking or spying. If you wish to remove it, then it shall also delete the evidence.
However, if you wish to preserve the phone for some evidence, then you must work with the local police who might have a specific process of analyzing the mobile phone devices for evidence purposes. You should keep your phone on the airplane mood and keep the battery of the phone charged until you speak to the police.
If you suspect that spyware has been installed, then be aware that specific activities on the mobile phone are being monitored, and you might not want the abusive person to know that you suspect spyware is there on the phone. Now when you talk about it on your text message, phone calls, in email, or near the phone may alert the abuser that you indeed know.
Zip Password : www.masterscyber.com