Download SpyMAX v6.5 an advanced Android remote administration tool with improved functionality and features
It has many more powerful features than other remote administrations tools. It is based on android devices version SpyMax v6.5 to android devices version 
SpyMax v6.5 is a light weight Android remote administration tool (RAT) to hack into a smartphone device remotely.
SpyMAX v6.5 Android RAT download and take control of android devices remotely with it's powerful features. SpyMAX works in 100% STEALTH MODE
Spymax v6.5 is the latest version of android rat which supports android version 4 up to android version 12. There are so many new and powerful
It is the latest android remote administration tool with a lot of new and powerful features. You can hack thousands of android devices by using this best android rat.

It is the best remote android hacking tool used by hackers to hack anyone android mobile from all over the world. I provide you
It is very easy to use this android rat. There are so many new features added to this remote access trojan. You can use it to monitor your kid's activities or for any other purposes depend on you
It is remote hacking android phone software for windows. It is a public version of android rat-free of cost. I provide you spymax v6.5 cracked download link at the end of this article.
It is the best remote hacking android phone tool design for windows os. It is used by hackers to target thousands of android devices and then they steal all information of that devices.

They steal banking details from their phones, they steal social media logins from their phone, they steal their private data and black mail them and they do many things.

I am providing you spymax v6.5 download link below. Use it only for testing purposes. Don't use it for illegal activities then I am not responsible.

It is a very dangerous android rat tool. Their developer added many powerful features to it that you have never seen before in any other rat.
It works smoothly on lower versions of android devices. It doesn't work smoothly on the latest version of android devices.

You can do so many things from spymax v1.0 rat. It is the 1st version of spymax v2.0 series. and Spymax v4.0 spymax v6.5 It is a stable and fast remote access tool.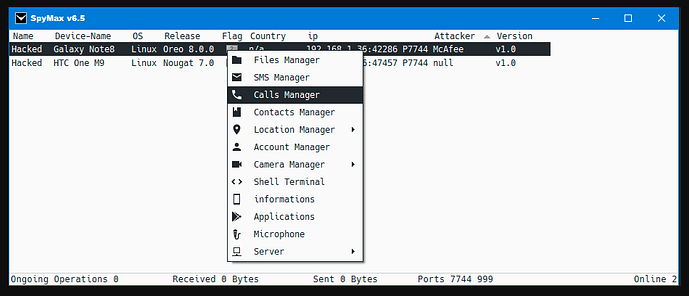 It is a persistent rat. You can hack your victims for a long time by using this best android rat. You can track all calls and SMS of your victims.

You can watch all activities of your victims that what He/She is doing in real-time through his/her front or back camera from mobile.

You can fully control your victim's mobile remotely a to z with this spymax v6.5 rat. You can turn it off or on his wifi.
You can also increase or decrease your victim's mobile volume. You can also vibrate your victim's mobile remotely by entering a simple command through spymax.v6.5

You can also live chat with your victims remotely. You can download and delete any app in your victim's mobile remotely.

You can check all the apps lists that install on your victim's device by using this best android rat. You can power off and power on the victim's phone remotely.

You can encrypt any file from the victim's file manager. It is a stealth mode android rat.
You can also check the battery level of your victim's mobile phone. You can check a to z all details about your victim from spymax v6.5

SpyMax v6.5 is used to hack mobiles from all over the world. This remote android hacking tool shows the country flags of your all victim devices.

You can track the exact location of your victim device that where is your victim at now by using this remote hacking android phone tool.
Features
There are many features in spymax v6.5 android rat. Some of the main features are as follows below.
Sms manager
Screen capture
Contacts manager
Location manager
GPS
GSM
Account manager
Camera manager
Front camera
Back camera
Shell terminal
Phone Information
Applications
Fun
Chat
Microphone
Call phone
Clipboard
Keylogger
Server
Ports
Persistence
Anti-sleep
Icon
Doze
Payload Melt
Victim flag
Settings
Network
Screenshot
Fully license activated
File manager
Call manager
Many more etc…
How To Use Spymax v6.5?

Many new coming peoples do not know how to use spymax v6.5 android rat? I explain you in a simple way. Spymax v..5 cracked download link below.

You need port forwarding for this rat because It is working on TCP protocol. 2nd thing you need Is a dynamic hostname like ( noip and duck dns etc. )

Then use this information in spymax v6.5 cracked rat during the build and a payload successfully build and will work perfectly. I also provide you
These are two mandatory software. If you face any kind of error during spymax v6.5 cracked installations then download and install these softwares to solve your error and for smooth use.
It is properly tested on all windows operating systems. It can work perfectly on all windows operating systems after fulfilling their requirements.
Windows 11
Windows 10 ( Recommended System )
Windows 8.1
Windows 8
Windows 7
How To Install In Windows?

1. First of all Turn Off your antivirus
2. Download and extract the zip file
3. Now unzip it
4. Turn off windows defender real-time protection
5. Run SpyMax RAT v6.5 Cracked.exe
6. Click on the install button
7. Enjoy.
Zip Password : www.masterscyber.com