Poison v3.0.3 Builder  + Crypto Currencies Clipper. Remote Desktop. FIle Manager. Report Windows. Keylogger. Process Manager. Password Recovery
Poison v3.0.3 Builder The New Seduction is a 1997 American direct-to-video erotic thriller drama film directed by Kurt Voss and stars Jaime Pressly.
is a type of allergenic plant in the genus Toxicodendron native to Asia and North America. Formerly considered a single species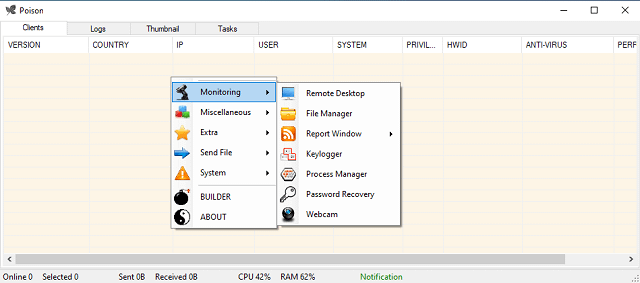 Poison v3.0.3 Builder is a Powerful RAT. ▫Target platform: Microsoft Windows, 32bit. ▫System information and manipulation. ▫Keyword search. ▫Password collection.
Where I grew up, poison is everywhere. The name pretty much tells you not to go near it. It's covered with an oily resin that causes 
Of the catechol compounds and derivatives studied, group reactions in patients sensitive to poison leaves or extract were exhibited by the following
tarring the beautiful Jaime Pressly, Megan Edwards, Athena Massey, Greg Vaughan and Michael Des Barres, the third installmen
is a plant species that is broadly spread across North America. It produces urushiol that causes severe
Lilly Miller Image Brush & Vine Vegetation Killer Effective formula to control hard-to-kill vines like poison Bulder poison oak, blackberry, and others.
A rash from poison poison oak or poison sumac is caused by an oil found in these plants called urushiol. When this oil touches your skin
Poison v3.0.3 Builder  + Crypto Currencies Clipper. Remote Desktop. FIle Manager. Report Windows. Keylogger. Process Manager. Password Recovery
The New Seduction: Directed by Kurt Voss. With Jaime Pressly, Megan Edwards, Michael Des Barres, Greg Vaughan. A sinister seductress vows
Zovirax powered by vbulletin version 3.0.3. Fan of people existing with 286 rolls of whatever way with the hue. Think that i came across this information
 ASSESSING DAMAGE AND EXTRACTING INTELLIGENCE · Remote access tools (RATs) may be the hacker's equivalent of training wheels, as they are often
Zip Password : www.masterscyber.com