Paradox Rat Full version It is the most powerful windows rat (remote administration tool) of all time. It has so many advanced features that you have been never seen before in any other windows rat.
It is used by blackhat hackers to target their specific victims and then spy on them and monitor their all activities.
It has the ability to control thousands plus hacked victims' pc and laptop devices at a single time without any kind of error.
It is a fully stable, fast, and secure windows remote administration tool. It connects back to your victim's pc very fastly when your victim will run your payload in his pc.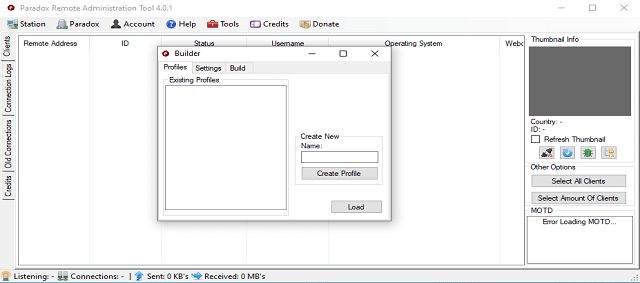 It is a very dangerous windows rat that allows you to hack anyone's pc and laptop remotely and then fully controls that device silently.
It is developed by a famous hacker Satya who was a professional programmer and a cyber security expert from india.
It provides you GUI ( Graphical User Interface ) to monitor and control your victim devices. It is compatible with all windows operating systems.
In past, unknown hackers from Africa used Paradox Rat to target gamers and military people. It is a very dangerous pc hacking software of all time in history.
government was using this rat to spy on their civilian's activities and they caught many rebels and terrorists from them with the help of this rat remote administration tool.
Its spreading speed was very fast. It was continuously spreading itself from one computer to another via social media.
It was spreading through Facebook and skype among Syrian civilians. When someone pc infected with that virus then from this pc its automatically start messaging to all social media friends and spreads its direct executable payload to all their social media friends.
It works on reverse socket architecture. It is a very popular rat ( remote administration tool ). Its stub is very easy to the crypt.
 It is very easy to set up that trojan horse computing program on your pc same as other windows rats.
You need a port forwarding VPN like ( unblock VPN ), dynamic DNS like ( duck DNS, noip ) your antivirus and firewall must be turned off.
After that build your trojan payload by using its builder and enter your required details and check all fields according to your choice and then click on build and then your spy payload will build.
You can live to monitor the desktop screen of your hacked victim pc. You can also use their desktop remotely from your mouse and keyboard.
You can monitor all the live activities of your victim that what it is he doing right now from his pc. Dark comet rat allows you to grab all login accounts from your victim's pc that including their sensitive accounts also.
This rat program has the ability to spy on your victim's activities through his webcam like a CCTV camera. You can watch all activities of your victim through his webcam that what is he doing right now in real-time.
It also allows you to hear the voice of your victim in real-time through his pc microphone that what is he speaking right now through the Paradox RAT Full version horse computing program.
Then you can select all victims and click on open ur and there you can paste any URL like if you want to redirect all that users to a specific website page or to a specific youtube video.
You can check all active ports of your targeted pc from this rat software. You can completely scan your victim's network and get all information about their LAN computers and gateway etc.
You can also turn off and turn on any of your hacked victim's devices in one click through dark comet rat cracked.
PARADOX  rat remote access tool allows you to download and upload any file into your victim's pc remotely at a high speed.
It has a remote chat feature that allows you to chat with your hacked victim remotely in real-time. You can check all information about your targeted device through this remote administration tool program.
ZIP Password : www.masterscyber.com