Mr. Skeleton Rat When a hacker sends any malicious file to the victim to get into there system, most of the tool doesn't bypass the antivirus (AV) protection. But today we will talk about a tool that can bypass the antivirus protection and compromise the victim's machine. Our Ethical hacking researcher are always find the  easy ways to bypass Antivirus protection, however there are many more way to bypass antivirus protection. Today we see how Venom RAT is used to compromise any target system even if the antivirus is enables.At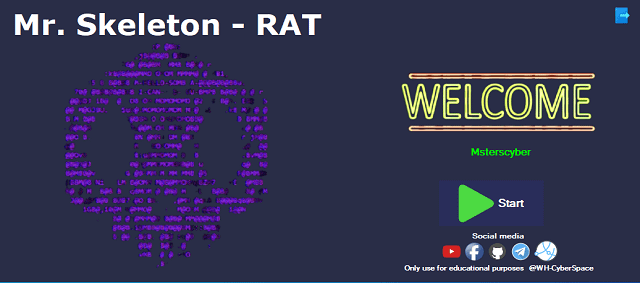 About Mr. Skeleton Rat tool , It use C# programming to build. It is a Latest Remote Access Tool in the hackers community which can easily bypass any antivirus in windows operating system . It can provide FULLY UNDETECTABLE (FUD) payload for your victims.
It is officially build Mr. Skeleton Rat With this RAT we get most power full and new features.This Skeleton RAT tool has many advanced features like rootkit features through which we can create invisible and undetectable payload. It also has advanced features like Hidden RDP and Hidden VNC Viewer etc.   
There are many powerful , new or useful features that are used in this RAT ( Remote Access Trojan ). This is a paid RAT But we are providing you a Latest version of it. This is  why It has many new features and some of its features are mentioned below.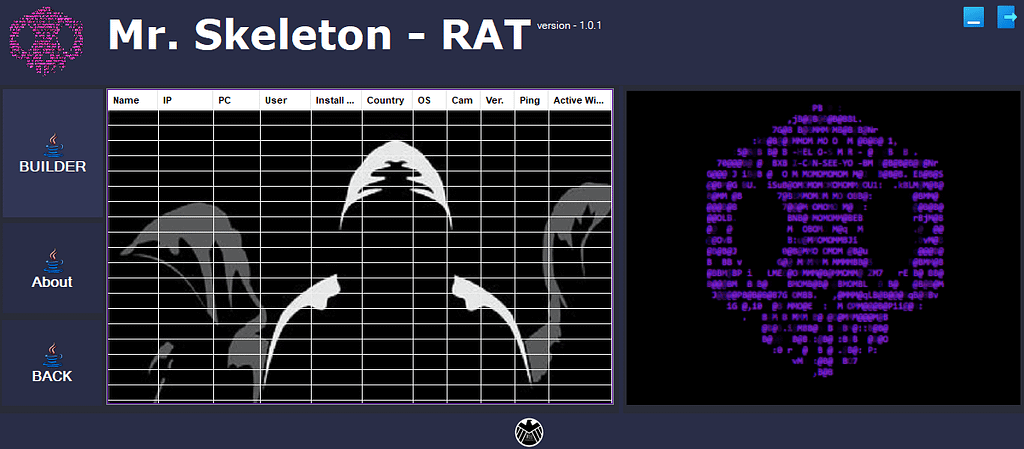 Features
Clients control
IPv4 & IPv6 Support
Protocol Buffers
Encrypted Communication
Rootkit
Hidden Process
Hidden File
Hidden Startup
Remote WebCam
Update
Disconnect
Reconnect
Uninstall
Remote system
System information
File manager
Startup manager
Task manager
Remote shell
TCP connection
Reverse proxy
Registry editor
Elevate client permissions
Turn-off
Turn-on
Stand-by
Remote control
Remote desktop
Remote webcam
Keylogger
Remote microphone
Velos stealer
Remote execute
Visit website
Show message box
Hidden vnc viewer
Hidden rdp
Pastebin uploader
Binder
Word exploit
Ring 3
Rootkit
Assembly
Keylogger
Recovery
Anonfile uploader
Stealer
Remote Administration Tool
RAT is a state of the art remote administration tool, made to complement our Mr. Skeleton Rat as well as the rest of our All Features. It's compatible with any version of Windows of Windows Server, therefore making it easy to use 
Zip Password : www.masterscyber.com