MiRai Eye Rat Cracked A very good rat which work on multi os like windows,linux,iot,debian,android,fedora,mac and osr.
RUN IN VPS I am not responsible for the actions of the people downloading this, what you do is your own choice Features: Remote Desktop Features: Remote Desktop. Remote Shell. HRDP Manager. Reverse Proxy. Monitor Grabber. DDos Attack. Computer Manager. Task Manager.
MiRai Eye Rat is a very good rat that works on multi os like windows, linux, iot, debian, android, fedora, and mac.
Mirai is a malware that turns networked devices running Linux into remotely controlled bots that can be used as part of a botnet in large-scale network 
Note: Few Features Not Working *** Hidden text: You do not have sufficient rights to view the hidden text
is one of the first significant botnets targeting exposed networking devices running Linux. Found Malware its Masterscyber 2022 Created First Payload
Many trojans and backdoors now have remote administration capabilities allowing an individual to control the victim's 
Learn how Mirai malware turns IoT devices running on the ARC processor and the Linux OS, into botnets. Mirai is commonly used to launch DDoS attacks
Mirai BotNet. Leaked Linux.Mirai Source Code for Research/IoT Development Purposes. Uploaded for research purposes and so we can develop IoT and such.
took advantage of insecure IoT devices in a simple but clever way. It scanned big blocks of the internet for open Telnet ports
Triage has long had signatures for MiRai Eye Rat but this week we have As usual, we'll keep an eye on future submissions and if we spot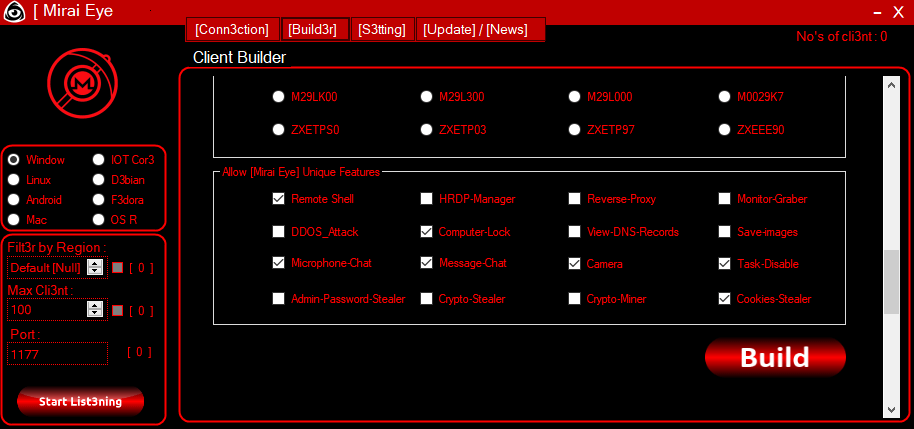 While Mirai infected IoT devices with low computational power, The plot of the last two movies as been about the "God's Eye
Spirit World Warrior, a person who fights Yomu and I'd rather have a drowned sewer rat come up and ask than another one of you.
VMware recently patched a vulnerability in its ESXi hypervisor that allowed for stored cross-site scripting. What exactly is a stored XSS attack
The RAT test result should be uploaded on ICMR's portal. The self RAT test kits are now available over-the-counter and through online
Mirai is a malware that hijacks and turns IoT devices into remotely 
Zip Password : www.masterscyber.com