LokiRAT A remote administration tool (RAT) is a piece of software that allows a remote computer to control the device
remote administration tool (RAT) is a malicious software that allows a remote computer to control the device as if they have physical access to that system. It's fully capable of taking control of target's machine.
Also allows the user to access the system with a Graphical User Interface (GUI). It has many features which allows a user to access remote computer as an administrator. Download Loki RAT Full Version.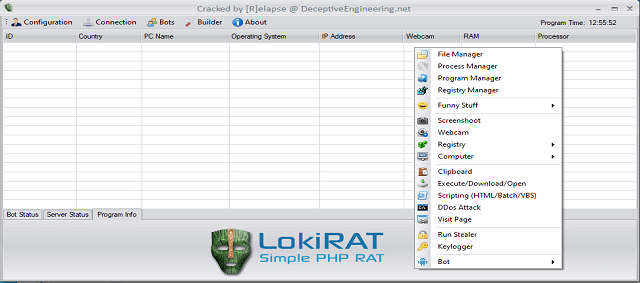 LokiRAT is made of two main programs: control server which is the web interface to administer the victim machine, and  client program which run on the victim machine. It's Web interface can be run on any Python powered server. The agent (Payload) can be compiled to native executables using pyinstaller.
Features
File Manager to Multi-level file management ( Capable of Browsing, Deleting and Creating new Files).
Screenshots
Webcam
Power Options
Keylogger
Program Manager
Registry Editor
Process Manager
DDoS
Fun Stuff to play with Target machine (Make Message, Print, Open/Close CD-ROM, Show/Hide Taskbar, Show/Hide Icons, On/Off Monitor, Block/Unblock Mouse, Start/Stop Crazy Keyboard).
access to that system. While desktop sharing and remote administration have many legal uses, "RAT" software is usually associated with criminal or malicious activity. Malicious RAT software is typically installed without the victim's knowledge, often as payload of a Trojan horse, and will try to hide its operation from the victim and from security software.
The operator controls the RAT through a network connection. Such tools provide an operator the following capabilities:[1]
Screen/camera capture or image control
File management (download/upload/execute/etc.)
Shell control (from command prompt)
Computer control (power off/on/log off if remote feature is supported)
Registry management (query/add/delete/modify)
Hardware Destroyer (overclocker)
Other software product-specific functions
Its primary function is for one computer operator to gain access to remote PCs. One computer will run the "client" software application, while the other computer(s) operate as the "host.
Zip File Password : www.masterscyber.com