Imminent Monitor v4.1.0.0 It is the powerful premium windows rat software with so many amazing and latest features. It is a favorite pc and laptops hacking tool for hackers because of its powerful and new features.
It has the ability to handle up to thousands of victims' pcs and laptops without any kind of lagging issue.
It is the best and latest premium pc rat ever with so many advanced features. You can fully control your victim's system silently through this premium pc rat and performs your tasks.
What Is Imminent Monitor RAT Computers Tool?
It is a very dangerous computer rat software with many dangerous features that you have never seen before in any other premium rat.

It is developed by a famous hacker " Shockwave " in 2012 for the first time. His developer claimed that It is the fastest remote access tool ever for windows that use new socket technology that has never been used before.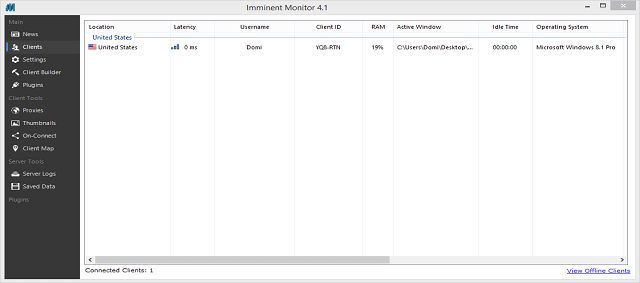 Imminent Monitor v4.1.0.0 Download is the first release of this rats hack software. Latest its developer launched many new updates and fixed bugs and improved their windows rat software.

It is an advanced remote access trojan for rat computers. Imminent Monitor v4.1.0.0 Download is the last and final version of this series. You will see so many advanced features in their final version.
It is also known as IM-RAT. Imminent Monitor 4 cracked rat developer jailed for creating that kind of dangerous remote administration tool.

It is used by many hackers for illegal purposes on a big scale that's why high authority agencies takedown imminent monitor rat v4.1.0.0 website and rat both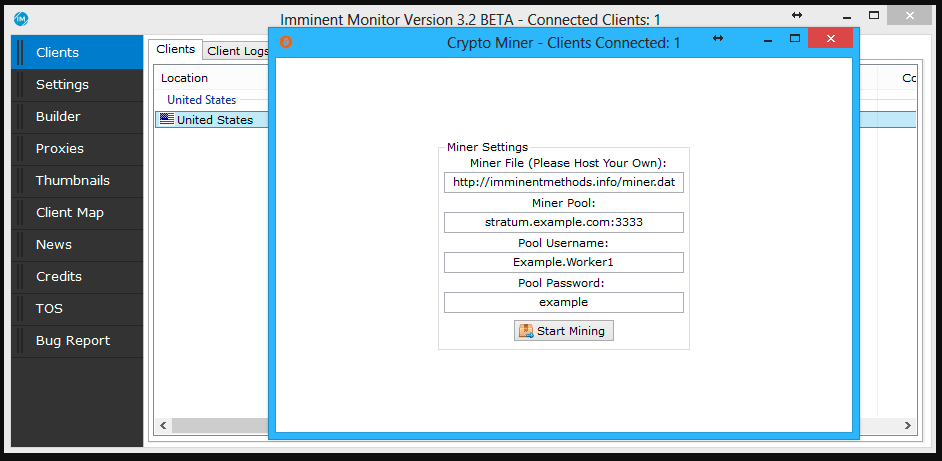 You can mine bitcoin, monero, ethereum from your bots in imminent monitor rat cracked 4.1.0.0 latest versions. It is the best rat computers software.

It is the first windows rat ever with HRDP ( hidden remote desktop protocol ) feature. There are so many advanced features added in this windows remote access trojan software.
You can view the live location of your victim and his house on Google Maps through this computer rat. It is the best rat hacking software in the market.

It allows you to upload and download any file remotely from your hacked victim's pc at a very high speed.
It is very easy to set up that remote administration tool on your pc same as other windows rats.
You need a port forwarding VPN like ( unblock VPN ), dynamic DNS like ( duck DNS, noip ) your antivirus and firewall must be turned off.

After that build your trojan payload by using its builder and enter your required details and check all fields according to your choice and then click on build and then your trojan exe will build.
You can steal passwords from your victim's pc silently through this best premium windows rat. It allows you to spy on your victim's activities through their front webcam and microphone.

You will see the reverse proxy feature in this paid rat that allows you to surf the internet from your victim's IP address that helps you to become anonymous and hide your identity.

It is a very stable and secure windows rat software. It shows you detailed information about your victim's device.
You will also see imminent monitor plugins in this windows remote access tool that helps you to make your work more reliable.

Every function has its own plugins. Every feature imminent monitor cracked rat is dependent upon its plugins.
If you want to mine crypto from your victim's then you need to enter your miner pool details by selecting all victims and clicking on the crypto miner.

Mining status will show in your crypto pool miner dashboard. You can check daily there how much $$$ is made in your wallet.

Its virus spreads from one pc to another very fast. Its payload spread itself in many directories on the hard disk.
Features
There are many features in cracked imminent monitor 5 rat. Some of the main features are as follows below.
Easy to use
Encrypted
Fast and stable
Client thumbnails
Torrent seeder
Crypto miner
DDOS
Upload
Download
Webcam view
Remote desktop
Control victim's desktop
HRDP
Reverse proxy
Password recovery
Proxies
Location
Clients map
Server logs
Server data
Ping
Username
Client id
Full device information
RAM
Plugins
Uninstall programs
Stop any service
Kill any program
Spreader
Customizable
Builder
Bug report
TOS
Many more
Zip password : www.masterscyber.com