It is the latest, powerful, and best remote administration tool for windows. You can remotely control your victim devices, mining cryptocurrency from your victims, and perform many more amazing tasks.
Hakops RAT is a paid rat but I can give you a download link this rat below. I personally recommend you to buy this rat because of its powerful features which you do not see in any other paid or in free RAT ( Remote Administration Tool )

Read this full article to know about the powerful and new features of this RAT. I also give you a discount voucher code below of Hakops RAT which helps you to less some charges from the actual price. I hope It adds to the top remote administration tool category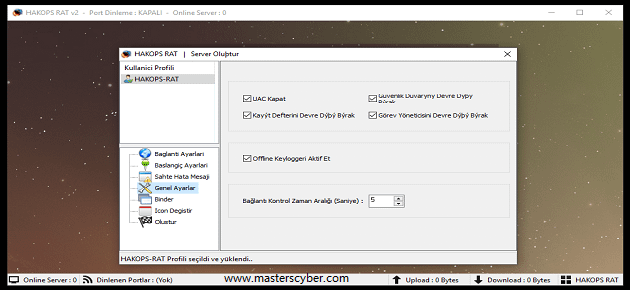 How To Download & Install?
Turn off your antivirus 1st or Turn off windows defender real-time protection
Download software from the below download button
Extract file
Open the folder and run Hakops RAT.exe
Enjoy.
REQUIREMENTS
1. Microsoft Netframework 3.5 or 4.6.1 ( Download Here 3.5 ) ( Download Here 4.6.1 )
2. Java JDK or JRE ( Java JRE Download Here ) ( Java JDK Download Here )
System Compatibility
This Hakops RAT ( Remote Access Tool ) is compatible with all windows operating systems. We successfully tested this RAT on all windows. It works pretty nice on all operating systems. It is the best pc remote administration tool
Windows 10 ( Recommended System )
Windows 8.1
Windows 8
Windows 7
Windows XP
HOW TO USE?
I am sharing with you a complete guide about this best rat and how to use Hakops RAT ( Remote Administration Tool ) by providing you a complete Artical any step.
ABOUT Hakops RAT
It is coded in C++ programming language. It is the latest version of the best PC RAT in the market. It is used by hackers to remotely access their victims.

This Hakops RAT has built-in Hidden RDP – HVNC ( can be purchased separately within RAT at a low price ) and is more powerful than others which supports many latest browser versions.
This RAT can handles up to 10k bots at a single time without any kind of lag and low CPU usages. It can bind 5 files up to a time. It is the best pc remote administration tool for

This best remote desktop software supports all-new browser versions for the password recovery feature. Their password recovery feature is updated every time and recovers passwords from all updated browsers. It is the best RAT tool for

It supports advanced and fast versions of the remote desktop feature. You can connect your pc mouse and keyboard with your victim through this remote desktop feature and control your victim's pc remotely.

It supports a reverse proxy feature in it which supports socks 4 and socks 5 for a very fast and stable connection for an easy swap between victims' pc. It is the best paid remote administration tool in 2021.

this best remote desktop software supports the hidden chrome browser feature by which you can open your victim chrome browser hiddenly remotely without known them to your victim.

You can use XMR mining feature on your victims to utilizing XMRig. It works with a CPU or with GPU. For faster mining select the 64-bit option

This RAT also supports the latest keylogger with many powerful and advanced features. The keylogger can save keystrokes in stealth mode that works online or offline in both.

Don't use this RAT for any illegal purposes because I am not responsible for any illegal activity. It is paid the best rat tool When Hakops RAT cracked was launched in the market I will provide you their cracked version but I recommended you to buy this for a better experience and support.

It is the best remote administration tool in the market which supports two modes of connection. It the 1st RAT ever which uses introduce this new feature in the market. It is the best paid rat
In secure sockets modes of connection, we use public DNS services, like DuckDNS, NO-IP, etc. that ban you that's why you can your tor and I consider It is the best rat tool due to its amazing features.
You can easily generate your own hidden service (.onion address) from the Hakops RAT with a single click that your .exe can connect to. It is the top rat new feature that was first discovered in this rat. 
Using .onion address and it can never be taken down by anyone. By using the Tor hidden service method, you do not need to forward any ports. It is the best paid remote administration tool
Features
2 modes of connection
Clients control
Update
Disconnect
Reconnect
Uninstall
Remote system
System information
File manager
Show message box
Hidden vnc viewer
Hidden rdp
Pastebin uploader
Binder
Word exploit
Ring 3
Rootkit
Assembly
Keylogger
Recovery
Anonfile uploader
Stealer
Hidden browser remotely
Startup manager
Task manager
Remote shell
TCP connection
Reverse proxy
Registry editor
Elevate client permissions
Turn-off
Turn-on
Stand-by
Remote control
Remote desktop
Remote webcam
Keylogger
Remote microphone
Velos stealer
Remote execute
Visit website
UAC exploit
Kills windows defender
Protect process ( Impossible to kill)
Direct reverse connection mode via secure sockets
Tor connection
Group view
Thumbnail preview
Connection capacities
XMR Miner
Reverse proxy
SOCKS5 Proxy
Etc many more.
 A BTC payment is not like a Paypal payment or like swiping your debit card. You have to wait for the miner's confirmation before the payment will go through. This will entirely depend on your fee.    When you initiate a transaction it is uploaded to what's called the mempool. You can track your transaction hash at
and if you've opted to pay the priority fee(usually a few cents above average).
your payment for this remote access tool will confirm within a few minutes. If you've opted to pay less than the minimal fee, you will have your best remote access tool once your payment confirms simply.  
 The payment process is automatic and has not made errors to this date. Only contact support with your blockchain hash ready, typically found in your wallet, after it has been marked confirmed by the mempool and you still do not have access to this best remote administration too
Zip Password : www.masterscyber.com