HackBase CC Stealer phishing attack, phishing scams, steam phishing, steam phishing site, gmail phishing, … phish steam, phishing page maker, phi, Phisher
 Hidden text: You do not have sufficient rights to view the hidden text. Visit the forum thread! About Compressed Archive Files
Download de drivers novos e anteriores, inclusive software de suporte, BIOS, BAIXAR TUDO GRÁTI, firmware e patchs para produtos Intel.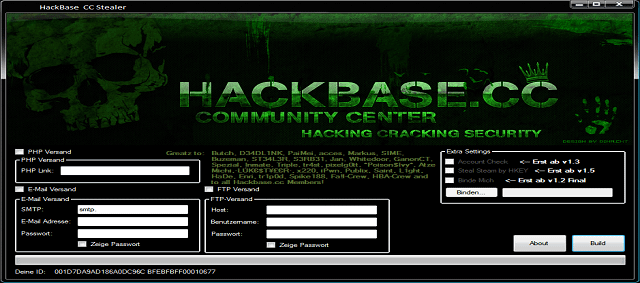 Hackbase CC Stealer Phisher 1.2 BETA … Steam Stealer by till7 te port scanner. Ultimate Virus Builder … 1337 SteamACC Stealer Private
HackBase CC Stealer Cybercriminals have several methods at their disposal to hack and exploit credit card information. Learn about these, how to prevent them and what to do when hacked
Hackers may attempt to invade our privacy in several ways, but one area they find particularly enticing is credit card information. Stolen credit cards can negatively impact not just your finances, but your personal identity and privacy as well. Effectively protecting them and the data connected to them is essential in the online world.
Hackers can steal credit and debit card information in a variety of ways, using both online and offline methods.
HackBase CC Stealer Phiser
Can a website steal your credit card info? The short answer is yes.
With phishing, hackers attempt to steal valuable information by impersonating a trusted source. Phishing schemes can come in several different forms, including phone calls, fake websites and sales emails.
For example, someone pretending to be from your issuing bank or credit card company calls and says they need to verify your credit card activity with some personal information and starts off by asking for your credit card number. Alternatively, a phishing email posing as a retailer offering you a discount or free items could be trying to trick you into giving up account details.
The best way to prevent phishing scams — whether via email, phone or text — is to never give up any personal or credit card information unless you initiated the contact. Also, go directly to a retailer's website to conduct business to ensure you control all transactions.
HackBase CC Stealer method used by criminals to steal personal information, which can also lead to identity theft, at a point of sale.
Card readers at ATMs, pumps at gas stations and other locations can be tampered with to add skimming devices. These phony readers collect and pass on payment information to thieves, who then clone the cards and use them as they see fit.
How to prevent: Inspect outdoor credit card readers for signs they may have been tampered with before using them.
RFID skimming uses radio frequency identification technology to wirelessly intercept RFID chip-based credit, debit and ID information directly from cards or even from smartphones and tablets. They use near-field communication-enabled devices to record unencrypted data from the card or a device's RFID chip to steal card details, such as numbers, expiration dates and card holder names.
Zip Password : www.masterscyber.com