Our latest exploit is a Exe to Jpg Exploit. This exploit converts malware (EXE) to images
One of the most complex tasks for the cyber security expert is to ensure their malicious code goes detected by antivirus and achieves its goal. For this, they have invested a lot on more complex infection processes, going beyond the traditional EXE to JPG Exploit and using techniques where the malicious payload is hidden in encrypted files – even using a known file format. This is what we found in a new EXE to JPG Exploit in the wild: it tries to conceal the malicious files in a Exploit Exe to jpg File. And the prevent attack starts with a simple EXE TO JPG Exploit Provides Good Security.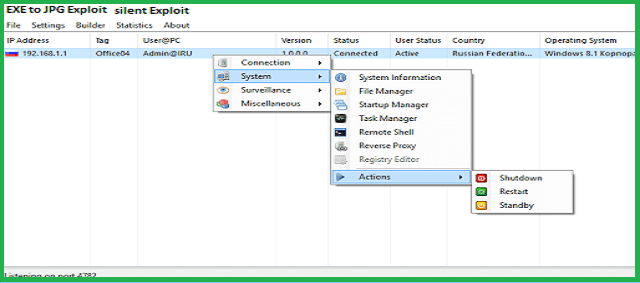 This module also changes the agent.exe Icon to match one file.jpg Then uses … agent.jpg.exe requires the inputed files
Vulnerability Disclosure Timeline
Closer inspection of the Exe to Jpg Exploit content reveals the malicious link as well as the URL Download and Execute of the tool used to generate the Exe to jpg exploit silent Exploit from Python encrypted code Exe to Jpg Exploit content which we also implement in couple of our builders.
Silent PDF Exploit
There are multiple Exe o jpg Exploit in Silent Exploit, a package commonly used by web services to process Exe to Jpg Exploit File. One of the vulnerabilities can lead to remote code execution (RCE) if you process user submitted Exe to Jpg Exploit. The exploit for this vulnerability is being used in the wild.
Support 24/7
User-friendly assistance for individuals having problems with our products. The technical support team is composed of individuals that are familiar Exe to Jpg Exploit with the ins and outs of our products and are able to troubleshoot most problems that a user experiences.
Why Are You Disclosing A Exe to Jpg Exploit
We have collectively determined that these vulnerabilities are available to individuals other than the person(s) who discovered them. An unknowable Exe to Jpg Exploit number of people having access to these vulnerabilities makes this a critical issue for everyone using this software.
About CVE
CVE was launched in 1999 when most information security tools used their own databases with their own names for security vulnerabilities. Exe to Jpg Exploit At that time there was no significant variation among products and no easy way to determine when the different databases were referring to the same problem.
Our Developers
Our Developer team is highly experienced in various languages and can deliver quality software EXE to JPG Exploit fast & reliably. Efficiency is guaranteed.
EXE TO JPG Exploit Features
If you are looking premium quality Exe to jpg Exploit package for your Company, you are right place! We offer outstanding user friendly jpg Exploit package for all!
SPREADING ANY E-MAILS
Hackers can exploit the security vulnerability by tricking the victim into Exe to Jpg Exploit opening a specially crafted, malicious exe to jpg Exploit file or exe to jpg exploit document containing that malicious file exe to jpg Exploit in an email.
EXPLOIT Exe to jpg SPREADING
The hacker could even upload the malicious Exe to jpg Exploit file to a file exe to jpg exploit service, like Dropbox or Google Drive, and then send that link exe to jpg exploit file to the victim.
COMPATIBLE WITH
Exe to Jpg Exploit are Compatible with all Windows Versions and all their Service Packs. It is also works in full unpatched systems and supports 0day Exploit EXE TO JPG You can use those Exe to Jpg Exploit to spread them via Social Media.
CLEAN & READABLE SOURCE CODE
We follow Exe to Jpg Exploit coding conventions and we deliver structured code. We guarantee that your source code will be readable and clean. Exe to Jpg Exploit
For a small price, we can comment your source code throughout its most critical parts. This will guarantee that you always know what it does. Exe to Jpg Exploit
EXPERIENCED PROGRAMMERS
Our programming team is highly experienced in Exe to Jpg Exploit various languages and can deliver quality software Exe to Jpg Exploit fast & reliably. Efficiency is guaranteed.
Video Tutorial For Demo
Exe to Jpg Exploit Tool Download