SpyNote 2.4.1 |Android Rat| |Free| Cracked Full and Final Edition Android Trojan called SpyNote which facilitates remote spying. The builder, which creates new versions of the malware, recently leaked on several malware discussion forums. SpyNote is similar to OmniRat and DroidJack, which are RATs (remote administration tools) that allow malware owners to gain remote administrative control of an Android device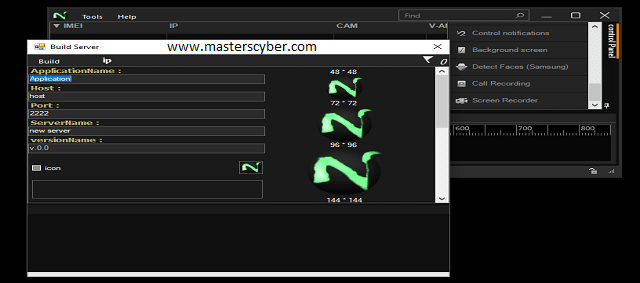 It is the best android rat ( remote administration tool ) to hack anyone's mobile or tablet remotely by using this software. It has many new and powerful features that can make it more powerful than other android rats.
It is a very fast working and good android rat ever that is used by hackers to remotely hack android mobiles by creating a payload and then spread it to their victims. I give you
You can bind their payload with any kind of app like ( with any kind of social app, with any kind of game app ) so, when the victim installs he will think that it is a normal app like other apps.
When the victim will install your binded payload then your connection will be made in spynote 2.4.1 rat. This feature makes it better than other versions of spy notes and android rats.
I am sharing this spy note 2.4.1 rat only for educational purposes. Don't use this remote administration tool for illegal purposes.
ABOUT SPYNOTE V2.4.1 RAT
It is an advanced version of android rat which is used for mobile phone hacking. Spynote 2.4.1 client is made in Visual Basic.Net programming language and their server is written in Java programming language.
Spynote 2.4.1 rat is a paid and very expensive android rat tool but here all credits go to the hacker " Scream " who cracked spy note v2..1 rat ( remote administration tool ) and provide us free to use and download.
SpyNote 2.4.1 by scream works better than their official version. It works in stealth mode ( means when victims install your payload then the icon of your payload hides from the victim phone ) and your connection is made.

People prefer spynote 2.4.1 fud rat as compared to all other android rats due to their performance or stability. It can handle up to thousands of active victims at a single time.
Spynote 2.4.1 rat is very easy to use and has a GUI ( graphical user interface ) which makes it more attractive than other android rats.

It has many new and powerful features than you can't see in any other android rat tool. It has a live screen monitor feature that can capture your victim screen in real-time.

SpyNote 2.4.1 rat is the latest version of the Spy Note series. There are many versions of spynotes rat which have been releasing earlier in the hackers market like spynote v3.2, spynote v4, spynote v5 and now the latest spynote 6.5 downloads available in the market.

You can download this rat-free of cost without spending any single penny from below. Read this article fully then you will be able to download this android rat tool with ease.

SpyNote 2.4.1 FUD ( Fully Undetectable ) has the ability to bypass top antiviruses and google play protect security which makes it more powerful than other android rat tools.

It works on both rooted android devices or on non-rooted android devices. You can also generate stealth mode payload by using this remote access trojan which is a very useful feature nowadays.

In stealth mode when your victim installs your payload then the icon of your payload app disappears from their screen and works in the background and your connection will be made in rat software.

Spynote 2.4.1 rat is a secure and safe remote access software from both sides ( from the client-side or from the user side ) as well as free of errors that harms devices.

The data that transfers from client to server is encrypted with complex encryption methods which make it more secure than other latest android rats.

Spynote 2.4.1 cracked rat uses end-to-end encryption which means data transfer from client to user or user to the Download SpyNote client is fully secure and encrypted from other applications.
Features
Private binder
Private socket
Real-time screen monitor
Merge with other apps
Stealth mode
Encrypted apps
Encrypted connection
Stable connection
Port password
Keylogger offline/online
Phone settings
Account manager
Applications manager
SMS manager
Contacts manager
Terminal
Victim chat
Get GPS location
Browsers history
Country flag
Victim IP-address
Watch live front/back camera
Capture photos
Captures videos
Encrypt victim files
Make a call from the victim device remotely
Make an SMS from the victim device remotely
Listen live through the victim's mic
Flood/DDOS protection
View all applications
Fun
Turn on-off victims wifi
Vibrate victims phone
Volume up or down remotely victim phone
Device information
Get victim phone details like ( IMEI, MAC, SIM details etc. )
Many more…
Download Requirements
These are two mandatory software. If you face any kind of error during spynote 2.4.1 installations then download and install these to solve your error and for smooth use. Download SpyNote

1. Microsoft Netframework 3.5 or 4.6.1 ( Download Here 3.5 ) ( Download Here 4.6.1 )
2. Java JDK or JRE ( Java JRE Download Here ) ( Java JDK Download Here )
System Test
It is properly tested on all windows operating systems. It can work perfectly on all windows operating systems after fulfilling their requirements.
Windows 10  ( Recommended System )
Windows 8.1
Windows 8
Windows 7
How To Install In Windows
1. First of all Turn Off your antivirus
2. Download and extract zip file
3. Now unzip it
4. Turn off windows defender real-time protection
5. Run SpyNote V2.4.1 Cracked.exe
6. Click on the install button
7. Enjoy.
Zip Password : www.masterscyber.com