KMYS RAT It is the latest version of the Windows remote administration tool with a lot of many latest and powerful features. You can remotely hack anyone's pc over the internet with this remote access trojan.
It is a favorite tool for hackers. You can hack anyone's pc silently by creating a payload from this KMYS RAT trojan and then sends it to your victim.
There are many powerful features in this remote administration tool. I provide you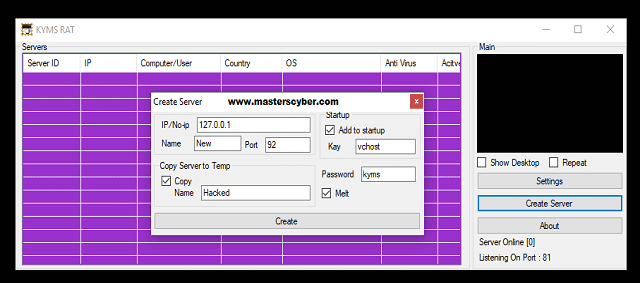 There are so many paid remote administration tool features are included in this RAT. You can control hundreds of bots at a single time by using this remote access trojan.

About KMYS RAT

It is coded by a hacker which was a member of the Hack Hound group. It is in the beta testing mode which means you will see some bugs and glitches in this remote tool.

I used kmys rat for windows and It works perfectly for me. You can hack anyone's computer with this RAT and you can perform any task.
You can steal passwords from your victim's PC. You can remotely use your victim mouse and keyboard.
You can monitor your victim's desktop screen live. You can open the victim's webcam.

You can spread your payload to many people and when you have so many victims in latest version Cerberus rat then you can mine bitcoin from them.

You can perform a DDOS attack from your all victim's power. You can execute any file remotely into your victim's pc.
You can live chat with your victim. You can capture the live microphone of your victim.
There are so many other features in this remote access tool. Its payload works on startup and persistence.

Don't use this remote administration software for illegal purposes. I am only providing latest version Cerberus rat for educational purposes only.

Use it on your own pc for testing. It is a very harmful remote access tool KMYS RAT
Features
There are so many latest features in this remote access tool and some of them are as following
File manager
Clipboard manager
Service manager
Windows manager
Process manager
Registry manager
Capture desktop
Capture microphone
Extra options
Devices list
Installed programs list
Active ports
Command prompt
Keylogger
Open webpage
Download & execute
Run file
Chat
Ping
Server options
Reconnect to IP
Settings
Passwords
Show desktop
Open download folder
How To Use?
It is very easy to use this remote administration tool but many newbie people don't know how to use KMYS RAT.
Open the builder button and then fill in all required fields according to your details. Enter reverse port number, your hostname, etc.

Then click on build and then send that payload to your victim and then connect to any paid VPN that provides a port forwarding feature.

After victims install your payload then a connection is made in your remote access trojan. I also provide you a video tutorial below about how to use a remote administration tool.
Requirements
These are two mandatory software. If you face any kind of error during KMYS RAT for windows installations then download and install these to solve your error and for smooth use.

1. Microsoft Netframework 3.5 or 4.6.1 ( Download Here 3.5 ) ( Download Here 4.6.1 )
2. Java JDK or JRE ( Java JRE Download Here ) ( Java JDK Download Here )

System Test

It is properly tested on all windows operating systems. It can work perfectly on all windows operating systems after fulfilling their requirements.

Windows 10  ( Recommended System )Windows 8.1Windows 8Windows 7
How To Install In Windows
1. First of all Turn Off your antivirus
2. Download and extract the zip file
3. Now unzip it
4. Turn off windows defender real-time protection
5. Run KMYS RAT .exe
6. Click on the install button
7. Enjoy.
Zip Password : www.masterscyber.com