CryptoGenic is ALL IN ONE Software! It's not only silent CVE exploit builder, some Cryptogenic version like Silver have only ShellCode Generator & PE Crypter
Cryptogenic Exploit Builder enables you to customize every part of each build using Unique Stub Generator and RTF Obfuscator. You can change header size, ObjData obfuscation, ObjClass obfuscation, Nesting, Contol Worlds, Symbols and output size. Cryptogenic support 6 different downloader methods (like powershell, bitsadmin, msi, etc). Our software also support .vbs .js .bat .ps1 and .exe extension. 100% Unique each output with our new ShellCode Generator! Obfuscation are available for both PE Crypter, VBS Crypter and Exploits.
 It is possible to improve patient outcomes related to cryptogenic stroke and … AI-enabled ECG software can improve rhythm diagnoses
Currently, cases are classified into Medicare Severity Diagnosis Related Groups (MS-DRGs) for payment under the IPPS based on the following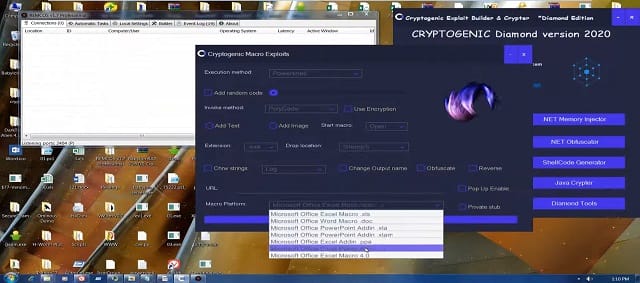 Hello everyone, could someone ,please, crack the Diamond Edition of cryptogenic software. Here is the link for the Software
Next Generation Exploit Builder Encryption allows you to use Unique ShellCode Generator instead of URL Download to Execute method. Both Embedded and Download-Execute method are supported! ShellCode can be converted to Base64, AES, MD5 or ASCII output. Every ShellCode is 100% different and unique! Polymorphism will make everything inside ShellCode unique and different! Some functions like Random Header Size, Char Obfuscation, Obfuscate RunPE, Char Replacement and Random Junk Code are now available on Cryptogenic!
Cryptogenic is ALL IN ONE Software! It's not only silent CVE exploit builder, some Cryptogenic version like Silver have only ShellCode Generator & PE Crypter, other like Gold has ShellCode Generator, PE Crypter, VBS Crypter and Macro & Addon Exploits too. Platinum has everything like Gold + Silent CVE and more features. Both Macro and Silent (CVE 2017-11882 & CVE 2018-0802) exploits have Strong Encryption and Full Randomization! Platinum version have some new 0day explotis like .csv and .slk too. Works on all Windows 7, 8, 8.1, 10 OS and Microsoft Office version 2007, 2010 ,2013 ,2016. The most powerful Diamond version also contains: Macro 4.0 Semi-Silent Exploit, Java .jar Crypter, Android .apk Crypter, EXE to VBS/JS Crypter and Converter and many more stuff.BYPASSING
Cryptogenic PE and VBS Crypter is a unique type of FUD PE and VBS Crypter that will FUD and protect your files using private encryption and obfuscation methods. Buying Cryptogenic will ensure maximum security from reverse engineering and antivirus detections, making it a perfect choice for penetration testers or developers who want to download superior undetectable crypting software. Cryptogenic will make your file Fully Undetectable (FUD) Runtime & Scantime. Every user of Cryptogenic receives free and quick re-undetection updates and refuds.
FUD crypter & Microsoft Office exploit builder
Demo Video
Download Cryptogenic Software