Cobra Crypter Free Download The Cobra Fad Cryptor can pack your file in such a way that the actual bytes are not readable.
Interactive malware hunting service. Live testing of most type of threats in any environments. No installation and no waiting necessary.
Cobra Crypter is one of the best Crypter in work as well as in price. It is very difficult to obtain so it is more FUD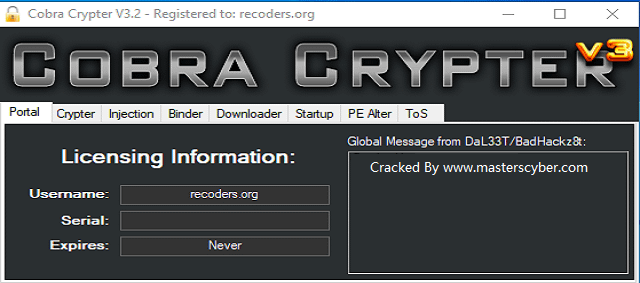 Cobra Crypter v3.2 – cracked. DOWNLOAD CLICK ME! Features. We've incorporated many features into the crypter for your convenience.
Cobra Crypter is one of the best Crypter in work as well as in price. It is very difficult to obtain so it is more FUD. We tested it on Cybergate Server and the result was " Clean" as expected. We all are happy to announce this crypter. Its great for Noobs who want to be developer. Its clean and has Binder,Downloader and startup as well a PE Alter.
FUD Crypter . It's simple and powerful. The crypter is FUD at the moment of writing this post. It has inbuilt binder so there is no need of separate binder.
This FUD crypter is easily usable by anyone. It is tested and works on all versions of Window.
 The crypted or encrypted file are lightweight and does not have any dependencies, therefore it will not draw user's
attention when error messages pops up during execution. Each crypted file is
 unique and undetectable because of polymorphic algorithms and automatic stub generators.
This private crypter is scantime as well as runtime. It also includes assembly and version changer to spoof the metadata of crypted file. Download this FUD(Fully Undetectable) crypter absolutely Free!! – 
Aegis is one of the most popular  Cobra Crypter   over internet. It's well know for it's FUD functionality and other great features it offers. Here is the latest entry in Aegis crypter series. This so called Aegis 4.0 crypter is fully undetectable(FUD) and inherits all features and functionality of previous crypter versions.
This FUD Crypter provides great flexibility for customizing your final crypted build. You can provide your own encryption key (EnKey) and Mutex.  There is inbuilt icon changer for changing exe icon, alternatively you can use reshacker or any other icon changer for advance icon properties.
There are other great features as well like
Anti-virtual machine – your RAT or logger won't work if executed in virtual machine environment.( Like VMware)

Anti-Sandbox – Your crypted exe will not get executed under Sandbox. If sandboxie is detected an error dialog will pops up.
Bypass UAC -Bypass user account control feature in Vista/Windows Seven/Windows 8
Disable Firewall -Disable Windows Firewall.
Hide Directory – Hide crypter directory
Hide File – Hide crypter file.
Add Startup – Add crypter to startup.
Inject default browser – Inject crypter process in default browser like into explorer.exe process.
Enable EOF –Enable end-of-file for preserving your exe end-of-file data.
Add Junk Code –Add random code to fool antivirus software.
Resource Data Encryption –Encrypt server's/keylogger's resource data.
EOF Data Encryption –Encrypts EOF data.
server or keylogger, instead use the option provided in Cobra Crypter In this way you server file will not get corrupt and will be surely added to startup programs. Some features are available in premium version only. You can use this for crypting cybergate, darkcomet, spynet, aradmax or blackshades. All these rats are tested and works perfectly.
Zip Password : www.masterscyber.com