Astoria Crypter is a type of software that can encrypt, obfuscate, and manipulate malware, to make it harder to detect by security programs.
Astoria Crypter Fully Undetectable Crypter Buy Private Crypter. Send Message. If you have Telegram, you can contact right away.
Buyers Bay-Astoria Crypter Private Windows 11 Defender Runtime Bypass 21H2 Compatible with Miner.
Take a look at Social Media for Crypto Enthusiast | Crypter Social Media Platform v2
Easy Run VPS Windows RDP Windows xp Windows 7 Windows 8.1 Windows 10 Windows 11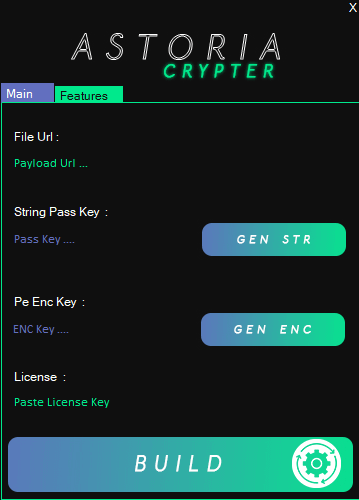 Download FUD Crypter. " Crypter" bypasses all av's runtime and scantime. Used AsyncRAT(DC RAT) Remote Administration Tool and get Runtime FUD results
Astoria crypters do not only encrypt the file, but the crypter software offers the user many other options to make the hidden executable as hard
Codename Astoria Offline 1.0 Alpha Preview Download. Secure Download Here Now! A preview of a sync-enabled version of the Astoria framework 
all-in-one platform that aims to bridge the gap between the traditional social media platform and crypto
Crypter in Python 3 with advanced functionality, Bypass VM, Encrypt Source with … Xencrypt it self is a Powershell runtime crypter designed to evade AVs.
Cypher deflationary token with great utility. Holders of CRYPT will receive 3% of every Buy/Sell transaction in BUSD
Stay up to date with the latest security insights on Crypter: Smart Contract Audit, Skynet Security Scores, Badges, CertiKShield and many more 
Encrypt/Decrypt your files or your texts. If you need to send files, pictures, texts sensitives and you don't want to be spied by your messaging application
Crypters are software tools that use a combination of encryption, obfuscation, and code manipulation of malware to make
encrypts any document with a list of public keys stored in the users address book or certificate store These encrypted files can only be
Zip Password : www.masterscyber.com