you can test connection with your phone , then buy from us .
Anubis 7.0 Android Banking BotNet is a Advance builder ,modernized and updated. Apk (build) + admin file (in two languages with the ability to replace ENG TR). Works on android versions 5 – 11.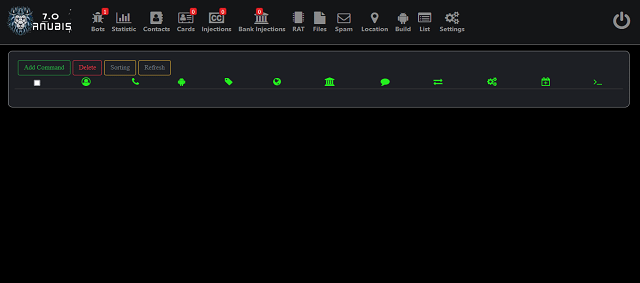 A mobile device allows communication between users on radio frequencies. It is used to send emails, multimedia sharing, and also used for internet access. In this period of time mobile has taken over desktops and computers as mobile phones are now they enable the user to access email, browse the internet, navigate via GPS and store our critical data like calendar, passwords, etc. they also help users to perform transactions like goods purchase, ticket booking, banking transactions, etc. People are relying less on the computer as mobile has made our life simpler.
According to the App Annie reports the mobile app market produced $82 billion in gross yearly sales in 2019, and this amount is expected to increase to $143 billion by 2020. By 2021, gross yearly income is expected to hit $190 billion. Juniper Research analysts forecast a $2 trillion market for payments and transactions done through mobile banking applications Anubis 7.0 Android BotNet
As mobile has provided technological advances by having the option to send messages, email and have the feature of download applications via the internet, hackers misuse these advances for malicious purposes like sending malformed apk files or click attack entitle to attract victims to fancy links using which attackers get access to control to victim system partially or completely for his/her personal benefits Anubis V7.0 Botnet
ANDROID MOBILE HACKING CONCEPT
One of the most insidious Attacks is called SMS forwarders. These are essentially Trojans that steal authentication or verification codes sent via text messages from online payment service providers. The codes are intercepted and used by masterscyber institute of technology to penetrate customer accounts. Another sneaky method, and which it's very easy to fall victim to, is a scam connected to some lottery. Hackers are getting modems which they use to send almost 10,000 text messages an hour, advertising some products or directing users to websites that are uploaded with ID stealing Trojans. It gets difficult for cyber experts to get a handle on such type of activity because most of this activity is carried out on the deep web where hackers mask and hide their online locations Anubis 7.0 Android BotNet
It's interesting and obvious, to note that most of the mobile malware attacks across wireless networks are aimed at Android phones mostly. This is because the architecture is open and as such more vulnerable than proprietary Apple's IOS platform Anubis 7.0 Android BotNet
Countries that experience the highest number of attacks on mobile hacking for your banking applications are Russia (40 percent), India (8 percent), Ukraine (4 percent), Vietnam (4 percent), and the UK (3 percent). India gets a huge number of banking attacks as in the field of cybersecurity India is still developing to the level of a world platform. In the year 2016 malicious software programs like Acecard and GM Bot gained popularity around the world Anubis 7.0 Android BotNet
Tutorial