AmexTroll Android Bots Mobile botnets are controlled using SMS or web-based commands and control channels and are used for various attacks, such as Link Exploit Pannel Bots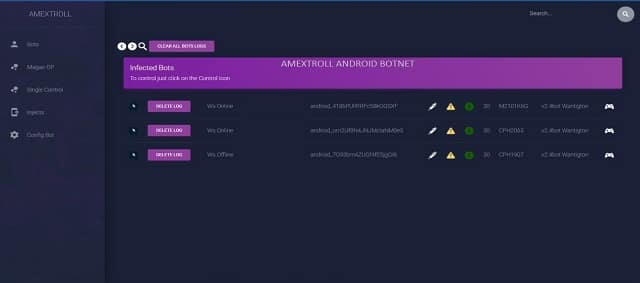 installation, Black Rose hides its icon and runs in the background. Every 60 seconds it asks the user to enable the accessibility service for an application called "Security of the system," which is actually itself.
If registered as an accessibility service, Amextroll Android user clicks on top of other applications and menus. This allows it to automatically give admin privileges to itself and to ignore battery optimizations that might kill its process.
It also allows the malware to install new APKs (Android Applications) received from the command-and-control server. Newer versions also support more powerful Botnet payloads that can be loaded dynamically on Android devices.
Amextroll Android Botnet vector that exploits vulnerabilities in the Bluetooth implementations of Android, Phone many cases, it can lead to remote code execution on affected devices and in others it enables man-in-the-middle traffic interception.
AmexTroll Android Bots SMS messages contain different lures to trick recipients into clicking a link. These links usually point to a hacked website where the Cloud hosts versions of their malware hidden inside legitimately looking APK files (Android's app file format).
-> Manager : Files , Sms , Contacts , Calls , Accounts ,Apps
-> Monitor : Live screen , Live Camera , online/offline Keylogger , Live Microphone , Live Location
-> Tools : Call Number , Download/install Apk , Show Toast , Get/Set Clipboard , Open Link in Browser , Run Shell Commands
-> Extra : Social Media Hunter , Notifications Monitor , Get Phone info .
Apk features :
1 : HIDE APK Work on all android 10 and 11
2 : Bind With apk
3 : Fake Apk : Create A fake apk using any website
4 : custom notification
5 : Anti Emulator
6 : And More.
This Android Bots Only For Paid Version Not For Free only download exploitdownload.com